Course Flash - Spring 2004

OSU E-News
"Your Electronic Link to Learning at a Distance"
Published by: OSU Extended Campus
Oregon State University, Corvallis, Oregon; Vol. 6, #1
February 26, 2004
http://ecampus.oregonstate.edu --> Check us out!
800-667-1465
Welcome to our spring issue of Course Flash, an E-News edition that provides you with a quick look at what's new in our OSU Ecampus online offerings for next term. For more details, including course prerequisites, click on the course number before the course description (below). Be sure to also check out our online Schedule of Classes for a complete menu of spring classes.
New Courses for Spring 2004
ANTH 110
Introduction to Cultural Anthropology (3)
Learn how different cultures solve common human problems. This course will investigate how values, family, religion, economics, and politics are similar or different around the world. Students are asked to consider future cultural conditions. (Bacc Core Course)
ANTH 210
Comparative Cultures (3)
In this course, students will compare cultures originating in Asia, Africa, precolonial Australia, Oceania, and North and South America, and examine the influences of minority and ethnic groups on the mainstream culture in nation states. (Bacc Core Course)
BA 271
Information Technology in Business (3)
Use computers with style, class and skill. Blend non-computer skills, like creating interesting content, with computer topics, such as using programs effectively. Be as comfortable building budgets and using spreadsheets as you are using the computer as a word processor.
ENG 465
Studies in the Novel: Consciousness and the Novel. (3)
Author David Lodge is quoted as saying, "The novel is arguable man's most successful effort to describe the experience of individual human beings moving through space and time." Students in this course will read four novels and try to discover each writer's attempt to describe such an experience.
FOR 365
Issues in Natural Resources Conservation (3)
Analyze facts and opinions related to issues in natural resources conservation. Gain the information and analytical skills necessary to make informed decisions about the use and management of natural resources at the personal and societal levels. (Bacc Core Course)
GEO 103
Exploring the Deep: Geography of the World's Oceans (4)
Introduces non-science students to the oceans, including marine geology and chemistry, ocean currents, coastal and biological processes. Crosslisted as OC 103. (Bacc Core Course)
GEO 265
Geographic Information System (GIS) Practicum (3)
Practicum experience in using the widely popular geographic information system for spatial data input, analysis, and display.

GEO 307
Geology of National Parks (3)
Ever thought of being a park ranger? Learn about the unique and diverse aspects of geology preserved in our US national parks, monuments and seashores. Write short essays about geological features in parks that may be used in interpretative programs. (Bonus: your fellow students will include employees from National Parks.) Read more on the course website: http://oregonstate.edu/instruct/dce/geo307/index.htm
H 432/532
Economic Issues in Health and Medical Care (3)
(Course delivery is on-site in Bend, Oregon.) Part of a health care course sequence, this class covers the application of economic principles to the health care field, and addresses the demand for medical care and insurance, health care suppliers, and health care markets.
HSTS 440
The History of Psychotherapy (3)
This course surveys the emergence of psychotherapy as both a medical and a cultural tool in European and North American contexts. Who were Freud's followers in the late 19th century Europe, and who resisted his system of psychoanalysis? How have psychotherapeutic relationships functioned as cultural expressions as well as medical treatments? (Bacc Core Course)

LS 428
Intersections (3)
Examine liberal arts disciplines and interrelations with emphasis on critical thinking and library skills. Attention is paid to the uses of a liberal arts degree. (Writing Intensive Course)
NE 535/RHP 535
Nuclear Radiation Shielding (3)
Study the theoretical principles of shielding for neutron and gamma radiation. Applications to problems of practical interest with emphasis on analytical and computer solutions. Offered alternate years.
PS 419
Topics in American Politics: American Political History in Film. (4)
Using films, readings and outside sources, you will discuss and analyze different understandings of the relationship between the (American) individual, and institutions that are sources of authority (the state, religion, ideologies, etc.). You'll be posed questions such as: In what ways, and for what reasons, are power and authority to be respected, resisted, or ignored? (Writing Intensive Course)
SOC 421/521
Social Change & Modernization (3)
Social change is a fact of modern life. In this course, students will look at social change using a sociological perspective that focuses on institutional and cultural change as well as the process of globalization. The course is structured around three questions: What is social change? How does it affect our lives? And, who is in control here, anyway?
Highlighted Courses for Spring 2004

ANTH 430
Archaeology and Sustainability (3)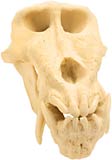 Focuses on the rise and fall of complex civilizations throughout N. America, Mesoamerica, Europe and Asia. By learning about the collapse of past civilizations, we hope to understand more fully the sustainability of today's complex societies.

ANTH 430
Oregon Archaeology (3)
Want to know more about Oregon's Native Americans? This course will integrate archaeological and environmental data to illustrate how Oregon's first peoples adapted to their natural landscape.
BA 390
Marketing (4)
Learn about consumer and industrial markets, and activities and enterprises involved in distributing products to those markets. The course objective is to develop an understanding of distribution processes, marketing problems, and marketing principles.

EXSS 475
Power and Privilege in Sport (3)
New last term, this course is a unique offering online. You'll be examining the influence of race, gender, physical disability and sexual orientation in sport, and the consequences of long held societal norms and stereotypes which have affected traditionally marginalized groups. (Bacc Core Course)

FW 470/570
Ecology and History: Landscapes of the Columbia Basin (3)
Scholars and experts from a wide variety of disciplines – science, law, anthropology, and history – will guide students through a chronological examination of the natural, physical, and cultural world of the Columbia Basin as it has evolved since its geologic formation. Students will look at how the ecosystem has changed because of human activities throughout history. (Bacc Core Course)
H 436/536
Health Services Management and Administration (3)
(Course delivery is on-site in Corvallis, Oregon.) Administrative practice in health care settings with emphasis on long-term care and acute care services. Provides a framework for health care systems and managerial process and roles. Focus on operations, planning, marketing, human resources, finance, productivity and control as well as emerging trends in health services.
HSTS 421
Technology and Change (3)
This course addresses the changing role of technology in modern industrial society, especially in the US, as well as recent efforts to predict and control technological developments and the social and cultural consequences. (Bacc Core Course)
MUP 192
Individual Lessons: Strings (1-2)
Always wanted to learn the guitar but couldn't find time for lessons? You can now learn it online…and get academic credit! This recently launched course has gotten great reviews from students. And you will have the option of creating a video/audio file of an individual performance.
WS 450
Ecofeminism (3)
Examines the ecological and feminist principles that mediate humanity's relationship with nature and with each other. At the conclusion of the course, students will create their personal visions for a future of egalitarianism and abundance.
Visit our Schedule of Classes for a complete listing of spring courses and for registration information. Classes start March 29 - register today!
Want "Course Flash" in your Inbox? Subscribe to OSU E-News today!