B.S. Human Development & Family Sciences – Online
Quest to improve lives of children drives award-winning HDFS student
By Tyler Hansen
OSU Ecampus
If there were such a thing, Erika Busch would be the landslide winner of the Most Audacious Life Decision Award of 2011. How'd she do it, you ask?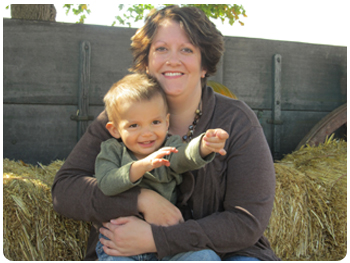 This summer, amid the nation's endless economic turmoil, she quit her well-established career as a flight paramedic in Arizona, moved with her infant son to South Dakota, started a day care from her home and signed up for another batch of rigorous online courses with OSU Ecampus.
Busch is well aware she picked a volatile time to uproot her existence and blaze a new trail. When it came down to it, she says, the timing was perfect.
"I gave up a good career to do this, but there comes a time when it ceases to be about you and it becomes about the kids," she said. "And that's my goal: to help children live better lives. Now I'm on a path that will allow me to do that."
Busch is pursuing an online degree in human development and family sciences (HDFS), a discipline that examines how people develop within the context of families, schools, communities and other environments. The major is right in Busch's wheelhouse, and Ecampus provides her with much-needed stability after a zigzagged educational journey.
Before landing at Ecampus, Busch went to specialty schools to become a medical assistant, an emergency medical technician, a paramedic and, finally, a flight paramedic, which she was for the past eight years on a Navajo reservation in northern Arizona.
Her medical service to the community was fulfilling, but a gaping void remained.
"It bugged me – I mean, it seriously bugged me – that I still hadn't earned my degree," Busch said.
Ambition took over. She enrolled at OSU in 2008 as an online liberal studies major with the intention to become a teacher, only to be steered by her surroundings in Arizona to switch to HDFS and pursue a career as a child advocate.
"I certainly don't know if I can make life any better for children, but the kids I work with will at least have somebody there for them," she said. "Most of the kids I've worked with in the past had literally no one they could count on. If they have one person they can talk to and trust, then that's great. That's what most of these kids need."
The goals that drive Busch – raise a child, earn a degree, maintain one career while pursuing another – are difficult to attain under the coziest of circumstances. Life doesn't often cooperate, though, and the past year has tested her resolve to no end.
Busch gave birth to a boy, Kellan, with developmental delays in early 2010. Soon thereafter, the boy's father walked out on them, leaving Busch to raise a child on her own while working 24-hour shifts 20 times a month as a flight paramedic.
Then came the bold move to South Dakota, leaving behind a career and friends in Arizona to more intently focus her attention on Kellan, as well as open a day care where she can put to use the knowledge she learns in her HDFS courses.
This isn't a sob story. It could be, but Busch won't let it come to that.
"The most amazing part about working with Erika is that she doesn't refer to her challenges with a sense of defeat or resentment, but with determination and incredible vision," said Busch's HDFS adviser, Brandi Hall. "She's an inspirational example of what can be accomplished despite significant life responsibilities and an unconventional educational path."
Proof of that sentiment came earlier this month when Busch – who is on track to graduate cum laude from OSU – was named Outstanding Nontraditional Student by the University Professional & Continuing Education Association's West Region, a group that represents more than 60 universities and colleges.
The announcement floored Busch. After a series of discouraging blows to her psyche, the award provided a dose of well-timed, well-deserved support.
"I question that I'm doing the right thing all the time," she said. "When I heard the news, I said to myself, 'OK, I can start to smile again.' "