Earn your OSU degree online while enrolled in a community college
Benefit from Ecampus' national reputation wherever you are
Being enrolled at a local community college no longer means you have to postpone your dream of attending a university. Now you can complete your degree online from a top-ranked university while taking community college courses.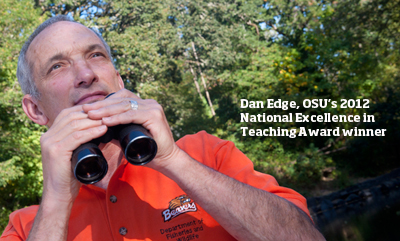 Oregon State University is a nationally recognized teaching, research and service institution located in Corvallis, Ore. OSU has been making an impact since 1868, and we've recently extended our expertise and outreach to the field of online learning.
For the 2012-13 school year, Oregon State Ecampus was ranked No. 8 on an annual list of the 25 best online universities in America. It's the second straight year Ecampus made the top 10 based on "market credibility and prestige, academic quality, degree selection diversity, student support and student satisfaction."
Pursuing a bachelor's or looking for a minor? We've got you covered

OSU Ecampus provides you with access to a high-quality education no matter where you live or where you are in your college career. Ecampus offers 15 accredited undergraduate degrees and a large selection of minors for you to choose from. Each area of study has a curriculum guide that can assist you in determining which courses are needed to earn a degree from OSU.
In addition, Ecampus features more than 800 online courses in 80-plus subjects throughout the year. Check our schedule of classes for a complete list of what's available to you.
Degree Partnership Program makes managing your tuition easier
You can even save money while attending your community college and OSU Ecampus. The OSU Degree Partnership Program lets you coordinate financial aid to cover both your community college and OSU online courses.
And the Degree Partnership Program features benefits beyond lower tuition costs. Students who qualify have access to more classes through their community college and Ecampus, and you'll also be given access to OSU Libraries online. You can even work with your community college adviser and your OSU adviser at the same time to ensure you're always on the best career track.
Join the OSU Ecampus community today
Start the next phase of your education by applying to OSU today and finding the right area of study that blends with your community college experience. OSU is on the quarter system and has four start terms each year, giving you even more flexibility when it comes to scheduling your degree plan.
Ecampus registration for winter term begins Nov. 11, and classes start Jan. 7, 2013.
Connect with our Student Services Center, and contact us online or by calling 800-667-1465.