Master of Natural Resources – Online
Now accepting students for summer 2013. Classes start June 24.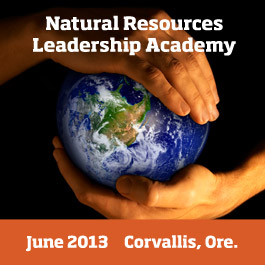 Students who earn a Master of Natural Resources degree will develop analytical and problem solving skills associated with complex natural resources issues.
Moreover, students will learn from and network with world renowned OSU faculty in natural resources – including scientists from fisheries, wildlife, forestry, rangeland and water departments.
Accredited program: Study the interactions of ecological, economic, ethical, production, and social systems. Explore multiple fields and choose an area of emphasis based on your professional experience and interests. Grow through a 45-credit program and earn a master's degree in natural resources.
Leading faculty: Tap into the minds of university scientists from five OSU colleges and 12 departments who teach courses in this interdisciplinary degree program. Through online delivery, we bring their expertise to you.
Top-ranked university: The College of Forestry and the College of Agricultural Sciences are consistently recognized for having the top natural resources programs in the United States, including forestry, conservation biology, and agricultural, fisheries, and wildlife sciences.
Your results: Apply your graduate level training, expertise, and diverse skill set in your career and your local environment.
Flexible schedule: This master's degree program is ideal for working professionals because it is conducted entirely online. Access the knowledge and education you need to propel your career forward, as it fits into your life's busy schedule.
Oregon State University is proud to be part of the Natural Resources Distance Learning Consortium (NRDLC), which promotes online learning from several accredited universities in natural resources-related fields.