Oregon State University Ecampus • OSU Degrees Online
---
FAQs: B.S. Environmental Sciences – Online
What is the difference between the environmental sciences degree and the natural resources degree?
The environmental sciences (ES) degree focuses on examination of environmental issues the world faces from scientific perspectives. The natural resources (NR) degree exposes students to natural resources disciplines, with emphasis on the social sciences and human dimensions of natural resource policy and management.

ES students learn how to provide potential solutions to environmental problems, predict environmental change, participate in responsible management of the environment and examine the critical relationship between humans and their environment. NR students gain technical and scientific knowledge spanning a number of natural resource and social science fields, and learn to understand their interdependence. Both ES and NR students choose and specialize in an area of interest.

The ES curriculum contains more technical and laboratory courses, including chemistry, physics and a higher level of math. In general, the NR curriculum contains slightly less math (it does not require calculus) and less laboratory and physical sciences (chemistry, physics) than the ES program. However, certain emphases in NR might necessitate completion of chemistry and related courses (for example: soils). The NR program incorporates a wider range of natural science courses, with a definite emphasis on management applications of scientific knowledge.

Both ES and NR students must complete a year-long sequence in lab biology; however, ES students need a higher level of biology (equivalent to OSU's BI 211, 212, and 213). NR students are required to complete the equivalent of OSU's BI 101, 102, 103 sequence.

In addition, the ES curriculum includes an Observational Experience requirement which is usually met through an internship allowing for hands-on experience in collecting and analyzing data in the physical, biological or social sciences related to the environment. Currently, the NR program does not have such a requirement.

Careers in the ES field tend to deal with regulatory, management, political and conservation aspects of environmental issues as well as positions that call for assessing problems and potential solutions from scientific perspectives, along with positions in non-governmental organizations. NR graduates go on to work for federal, state and local land management and planning agencies, non-governmental organizations and legislative bodies concerned with land use policy and laws. Some graduates of both programs continue on to graduate school and law school, and also pursue careers in teaching.
What kind of jobs can this degree prepare me for?
Career opportunities for students graduating with a B. S. in Environmental Sciences will continue to expand. Federal agencies such as the U.S. Environmental Protection Agency, the Department of Energy, and the U.S. Forest Service hire qualified graduates, as do private companies, consulting firms and universities. In addition, students planning to teach elementary or secondary school can use a degree in Environmental Sciences. Qualified graduates from this degree can enter OSU's yearlong Professional Teacher Education program (Master's of Arts in Teaching) to become certified to teach in a variety of areas.

Visit Careers for Environmental Sciences majors for more information.
Can I take all the degree requirements for this degree via the web?
You can take all requirements for this degree through OSU Ecampus. However, we encourage students to take some of their lower division course work at a local institution if they would like. It can be especially useful to take your math, statistics, microeconomics and lab science requirements locally. Lower division courses may also be taken at other accredited colleges and universities.

Features and Navigation
Academic calendar
Currently it's fall term. See academic calendar for our quarter term schedule.

Winter term starts Jan. 8, 2018.
Spring term starts April 2, 2018.
Degree details
| | |
| --- | --- |
| Program | Environmental sciences |
| Degree type | B.S. |
| Credits needed to graduate | 180 |
| Cost per credit* | $288 |
* cost per credit and total cost are calculated using tuition per credit for the current academic year. It does not include associated fees, course materials, textbook expenses, and other expenses related to courses.
Ranked top 10 in the nation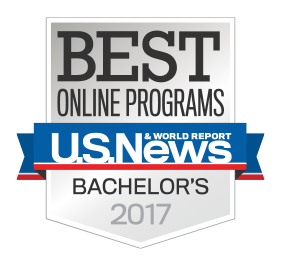 OSU Ecampus earned a top 10 ranking for the third year in a row on a list of America's best online bachelor's programs. Learn more »