Chemistry - Minor
Earn a minor in Chemistry through Extended Campus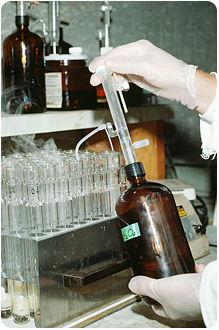 The Department of Chemistry along with Ecampus invite you to discover the flexibility and ease of completing a Chemistry Minor as part of your undergraduate degree program.
Sharpen your skills in chemistry
OSU Ecampus students can now take advantage of the resources and distinguished faculty in the Department of Chemistry.
The OSU Chemistry Minor provides a base knowledge in various areas of chemistry and also gives students a chance to choose chemistry courses that match their interests and will support their career goals.
The General Chemistry course sequence including the labs can be completed entirely online. For a preview of the sequence, view our YouTube Video featuring instructor Richard Nafshun.
Course Work
The Chemistry Minor requires a minimum of 27 credit hours. Visit the Chemistry Minor Curriculum page for requirements and course options or view the listing of All Chemistry Courses offered online for course descriptions.
Visit the main OSU Chemistry Minor page for answers to frequently asked questions and on-campus course options.
If you're degree program requires a chemistry course sequence, visit our Online Chemistry & Lab Courses to find out how you can complete it online through OSU Ecampus.