Oregon State University Ecampus • OSU Degrees Online
---
B.S. Natural Resources - FAQs
What is the difference between the Natural Resources degree and the Environmental Sciences degree?
The Environmental Sciences (ES) degree focuses on examination of environmental issues the world faces from scientific perspectives. The Natural Resources (NR) degree exposes students to natural resources disciplines, with emphasis on the social sciences and human dimensions of natural resource policy and management.

ES students learn how to provide potential solutions to environmental problems, predict environmental change, and participate in responsible management of the environment. NR students gain a breadth and depth of technical and scientific knowledge spanning a number of natural resource and social science fields, and learn to understand their interdependence. Both ES and NR students choose and specialize in an area of interest.

The ES curriculum contains more technical and laboratory courses, including chemistry, physics and a higher level of math. In general, the NR curriculum contains slightly less math (it does not require calculus) and less laboratory and physical sciences (chemistry, physics) than the ES program. However, certain emphases in NR might necessitate completion of chemistry and related courses (for example: soils). The NR program incorporates a wider range of natural science courses, with a definite emphasis on management applications of scientific knowledge.

Both ES and NR students must complete a year-long sequence in lab biology somewhere other than OSU. ES students need a higher level of biology (equivalent to OSU's BI 211, 212, and 213). NR students are required to complete the equivalent of OSU's BI 101, 102, 103 sequence, either locally or online through an Oregon community college.

In addition, the ES curriculum includes an Observational Experience requirement which is usually met by a paid or volunteer internship allowing for hands-on experience in collecting and analyzing data in the physical, biological or social sciences related to the environment. Currently, the NR program does not have such a requirement.

Careers in the ES field tend to deal with regulatory, management, political and conservation aspects of environmental issues as well as positions that call for assessing problems and potential solutions from scientific perspectives. NR graduates go on to work for federal, state and local land management and planning agencies, non-governmental organizations, legislative bodies concerned with land use policy and laws, and in public and private education settings. Some graduates continue on to graduate school and law school.
Can I take the same course to fulfill several requirements?
In some cases, but not always. You can "double count" courses from the NR Core, Breadth and Specialty Option sections of the program to meet Bacc Core requirements. However, you cannot double count courses within the NR Core, Breadth and Specialty Option sections. Thus, for example, you can use AEC 351 to fulfill both the Resource Economics requirement in the NR Core area and the Contemporary Global Issues requirement in the Bacc Core/Synthesis area, and you can use HST 481 to meet both the Social/Political requirement in the Breadth area and the STS requirement in the Synthesis area. You could not, however, count RNG 490 for both the Resource Economics requirement and the Social Sciences/Natural Resources section in the Specialty Option, nor could you use RNG 355 to meet both the Water Science requirement in the NR Core and the Land/Water requirement in the Breadth area.
If I already have a B.S./B.A. degree, must I take the entire 180 credit hours to get a second bachelor's degree?
No, you do not need to. If you are seeking a second undergraduate degree, you will be admitted as a postbaccalaureate degree-seeking student. Some of your previous course work may substitute for courses listed in the natural resources curriculum. However, 45 of the last 75 credit hours of course work must be OSU courses.
What level of computer capability will I need to take distance courses?
In terms of personal skills, you should feel comfortable wandering around the internet and using e-mail, including attachments. You will need to have access to the Web through an internet provider. For most courses, this is all that is required. However, for a few courses you will need access to a Pentium-based multimedia computer with 8X CD player, and Windows 95 or higher.
Can I take all the requirements for this degree via the Web?
You can take all requirements for this degree through OSU Ecampus. However, we encourage students to take some of their lower division course work at a local institution if they would like. It can be especially useful to take your math, statistics, microeconomics and lab science requirements locally. Talk to your advisor to verify that local courses meet OSU degree requirements.
I've already had some college-level course work. How do I get my transcripts reviewed to see how many courses I'll need to complete the degree?
Once you have reviewed the natural resources curriculum to see what courses you need for the degree, you are ready to have an advisor evaluate your transcripts. You should call the Student Services Center at 800-667-1465 to get the process started.
Who do I ask if I have questions about financial aid, admissions, course delivery methods or other questions about online degrees?
For all other questions that do not relate directly to the B.S. in Natural Resources, call 800-235-6559 (the OSU Extended Campus main office in Corvallis, Oregon) and they will connect you with the person who can answer your questions.
Are there other resources that will highlight services available to me through OSU Extended Campus?
Our Website is full of good information for prospective students. Be sure to visit our Enrollment & Services and About Ecampus pages, where you will find:

Features and Navigation
Academic calendar
Currently it's fall term. See academic calendar for our quarter term schedule.

Winter term starts Jan. 8, 2018.
Spring term starts April 2, 2018.
Degree details
| | |
| --- | --- |
| Program | Natural resources |
| Degree type | B.S. |
| Credits needed to graduate | 180 |
| Cost per credit* | $288 |
* cost per credit and total cost are calculated using tuition per credit for the current academic year. It does not include associated fees, course materials, textbook expenses, and other expenses related to courses.
Ranked top 10 in the nation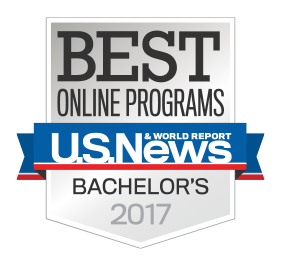 OSU Ecampus earned a top 10 ranking for the third year in a row on a list of America's best online bachelor's programs. Learn more »