Oregon State University Ecampus • OSU Degrees Online
---
Online Chemistry & Lab Courses – Benefits
Oregon State University's online chemistry and lab courses provide contemporary learners with access to high-quality educational opportunities with the added aspect of convenience.
Distinguished science and chemistry resources
OSU's online chemistry courses feature curriculum and instruction from a top-tier, accredited research university. Learn more about Oregon State University.
Online interaction
Student-instructor and student-student connections are highly interactive and typically occur via online discussion boards where you can post comments viewed by all or a select group of classmates. Many Ecampus student comment on the accessibility and availability of their instructors and advisors when it comes to interaction, communication and building relationships. View the Ecampus course demo to discover more about online learning at Oregon State.
Value
Have a Question? Contact Us for more information.





Ready to Register? Check out our Getting Started Guide.
In-state and out-of-state students pay the same tuition and fees for all OSU Ecampus online courses. Additionally, the learning outcomes and class experiences are equal to the on-campus versions.
Flexibility
Online learning allows our students to balance their education with other life responsibilities, including family and job commitments.
Transferable credit
If you find that you are unable to complete your degree program's chemistry requirements at your home institution, you may be able to transfer your credits earned from OSU Ecampus. OSU operates on a quarter-based academic calendar. View our transferring credits page to learn how OSU credits will transfer to your home institution, especially if your college or university operates on a semester-based academic calendar.

Features and Navigation
Academic calendar
Currently it's fall term. See academic calendar for our quarter term schedule.

Winter term starts Jan. 8, 2018.
Spring term starts April 2, 2018.
Featured student
The professors are personable and are really quick at responding to emails and the questions that students ask in the online forum. Everyone is very engaged.
—Kat, Online organic chemistry student in California
Tuition & fees
* cost per credit and total cost are calculated using tuition per credit for the current academic year. It does not include associated fees, course materials, textbook expenses, and other expenses related to courses.
Ranked top 10 in the nation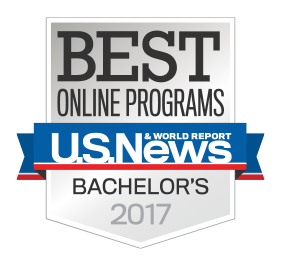 OSU Ecampus earned a top 10 ranking for the third year in a row on a list of America's best online bachelor's programs. Learn more »