Oregon State University Ecampus • OSU Degrees Online
---
Free, Open Online Course for K-12 Educators
Course ended November 24, 2014
This eight-week online course is designed to help teachers support English Language Learners in meeting new, rigorous standards. Specifically, the course will focus on a key practice within both the Common Core State Standards and new English Language Proficiency Standards: constructing claims supported by evidence. Endorsed by the Oregon Department of Education for Oregon K-12 teachers, the content is also open to teachers outside of Oregon, and is especially relevant to those educators in the 11-state ELPA21 consortium (see map on this page).
Learn how to design curriculum aligned to new standards
In this course, teachers and administrators from across Oregon and beyond will work together in teams, gaining direct experience with the new, rigorous standards. Together, participants will gather language samples from their students and collaboratively analyze those samples, exploring how students construct claims supported by evidence. Using what they learn about their students' language abilities, educators will be able to more successfully design curriculum aligned to the new standards.
The instructors for the course

Assistant Professor
College of Education
Oregon State University
Engaging and flexible training developed by leaders in the field
Oregon State University's inaugural massive open online course (MOOC) has been a collaborative effort among the following partners:

Features and Navigation
Sign Up For Course
Course registration is now closed. Supporting English Language Learners under New Standards began in October 2014.
States Under New Standards
ELPA21 is a consortium of 11 states – Arkansas, Florida, Iowa, Kansas, Louisiana, Nebraska, Ohio, Oregon, South Carolina, Washington and West Virginia – developing an assessment system based on the new English Language Proficiency Standards. Learn more about assessment of ELLs »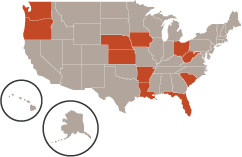 Course Details
Starts: October 1, 2014
Ends: November 24, 2014
Cost: Free
Registration closed
See all FAQ »
Get Course Updates
Subscribe to receive future course updates.
Questions?
Contact: ell.open@oregonstate.edu.