Inside a Blackboard Course
On Your First Day...
Tips from Ecampus Students
"Some teachers put assignments and due dates in one location while other teachers put it somewhere else. It is hard to keep track of assignments. Creating a calendar at the beginning of the term is very helpful."
When you first visit the homepage for your Blackboard course, click each of the links in the left navigation bar within your Blackboard course to see what information is located in each section. There is some variability among courses in where instructors choose to display their course content, evaluations, important links and discussions. Be sure to read any announcements that have been posted and locate the course syllabus, which is often located under Course Information.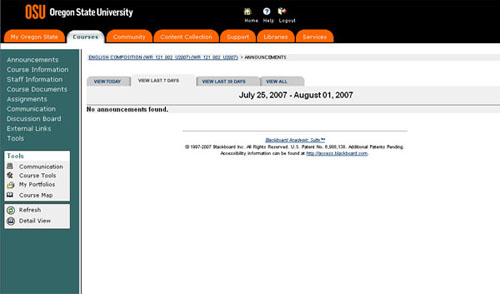 Syllabus & What's Expected
One of the first steps to success is knowing what's expected in a course. Your course syllabus, written by your instructor, provides an overview of the topics, learning objectives, learning resources and online "classroom" environment. The syllabus will also describe the grading policies, requirements such as reading assignments, homework, projects, class participation, and whether your exams will require proctoring. By downloading and printing the syllabus for your class, you'll have a convenient way to refer to the course outline and structure.
We recommend writing the due dates for assignments and exams for all your courses into a planner or calendar, so that you have all deadlines for all of your courses compiled into one place.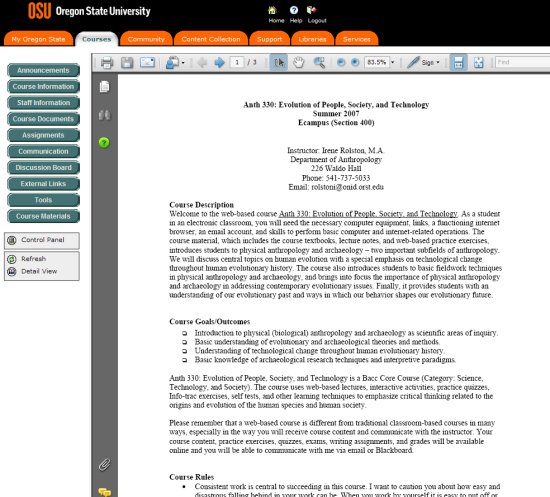 Communicating Online
Good communication is an essential part of online courses. Your course may include discussion boards or forums, virtual classroom or chat, as well as email communication. (Refer to the "Ensuring Your Success" section of this orientation for guidelines about communicating online). A discussion board screenshot is shown below.
This image shows the discussion board landing page, listing several discussion "forum" topics. If you want to post to the board, click on one of the forums. Discussion forums can be added by the instructor or by students in the course if the instructor permits. In the example below, this student has the ability to add new forums by clicking on the + Forum button in the top left corner of the screen.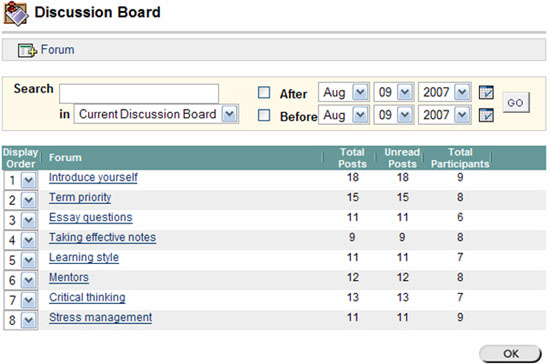 If you clicked on the "Introduce yourself" forum, you would see the following image. These are "threads" within the "Introduce yourself" forum. To post your own thread, click on the + Thread button. You will be able to reply to others' threads by clicking on them.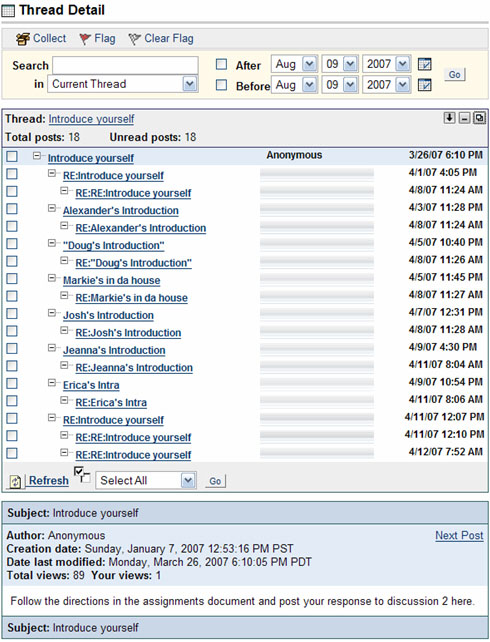 Further Blackboard tutorials can be found on the Blackboard Help section of our website.
Homework Assignments and Activities
Tips from Ecampus Students
"You need to work at the course just like any college course. They do require preparation on your part and some questions may need clarification, which cannot be done at the last minute."
Assignments and activities in your online class, much like in a traditional classroom, vary from subject to subject. Possible classroom components include readings, research (library and Internet), streaming video, virtual labs, animation-based activities and charts. Instructors often post challenging questions to be examined and debated with your classmates, facilitated by your instructor on the Discussion Boards. You may have the opportunity to check your understanding of course concepts by taking online quizzes. Some courses have students work in groups on real-world problems or role-playing scenarios. Internet resources are used to enrich courses and allow exploration of individual interests within the context of the course.
Need help learning a concept? Ecampus provides our distance students with free online tutoring in a wide variety of subjects: accounting, biology, chemistry, economics, mathematics, physics, Spanish, statistics and writing.
Exams and Quizzes: Proctored or Non-proctored
Some of your distance courses require you to take proctored exams. You should be informed of this in the course syllabus or a Blackboard announcement. A proctored exam is taken under the observation of an approved person (proctor), usually at a testing facility. You are responsible for setting up a proctor in your local area and notifying Ecampus of your proctoring arrangements. For more information, visit Exams and Proctoring.
If your test is not proctored but is administered within Blackboard, then a link to your exam will appear inside Blackboard at the time specified by your instructor. You must take the exam when your instructor specifies (usually within a specified window of several days), unless prior arrangements have been made with your instructor. For additional information, visit Blackboard Test Help.
Grading
After completing an assignment, online quiz or exam, you can access your scores by clicking on the My Tools menu along the left-hand side of your screen, then on "View Grades in Blackboard." On the View Grades page, you can click on your score to see your answers. Consult your syllabus for course-specific grading policies.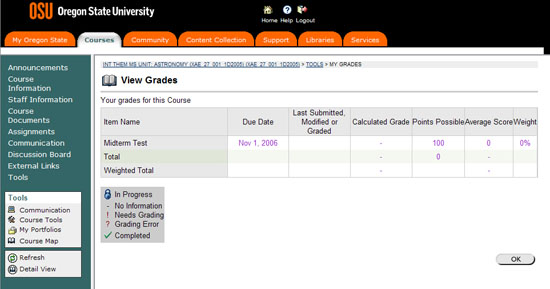 Once your final grade is posted in Blackboard, the final grade is moved from Blackboard to to Student Online Services and applied to your university transcript.  After this point, your grades will no longer be available for viewing in Blackboard.