Logging In
The Blackboard Login Screen
Tips from Ecampus Students
"Take a deep breath. It seems overwhelming but it is pretty easy to get use to. If you need help ask, most of the other students in the class are more than willing to help, we've been there before. Oh and remember to double check due dates regularly, it is easy to fall behind or miss-read something."
After you have registered for an Ecampus course, you should login to the Blackboard homepage by visiting my.oregonstate.edu and entering your ONID username and password. You'll want to bookmark this webpage, as you will visit it often. (Revisit the "Accessing Online Services" section of this orientation for more information about ONID accounts).

This is what the Blackboard login screen will look like: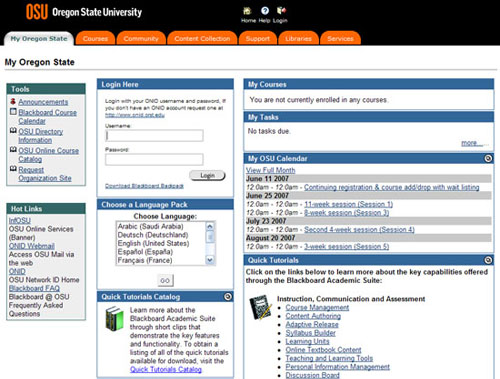 Inside Blackboard
Tips from Ecampus Students
"Get on the system and familiarize yourself with everything and definitely do not be afraid to ask questions of everyone - fellow students, advisers, professors and Ecampus student services."
You have a variety of features to explore inside Blackboard. A typical welcome screen looks like the one below and includes a variety of links. You will see a list of the classes you have registered for under the "Courses" tab, or the "My Courses" link, circled in the image below. Note: it will always say "You are not currently enrolled in any courses" if the term is not in session, and will only list the courses you are registered for during that term.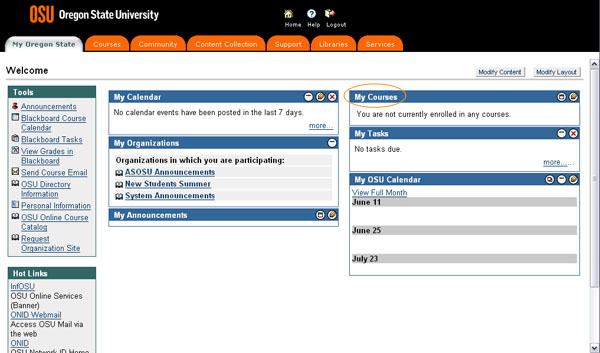 Example of a Course Homepage
After clicking on a course you have registered for, you will see a page similiar to the one below. The left-side navigation and content varies depending on the course and instructor.