About Courses
Throughout the year, Ecampus offers over 300 credit courses in more than 40 subjects to students off-campus who prefer the flexibility of online learning and distance education.
What courses are offered, and when?
Our Schedule of Classes provides you with a complete term-by-term listing of courses, which follow the quarter term system at OSU. Each course links to its own page of information, and many include a class syllabus link to preview assignments and deadlines.
How are courses delivered?
The majority of Extended Campus courses are delivered online through the Blackboard (Bb) Learning Portal System, which requires a user login and password to access your courses. Several Ecampus courses may entail a combination of delivery methods (i.e. video & web), or are offered at off-site locations around Oregon.
Preview courses in Blackboard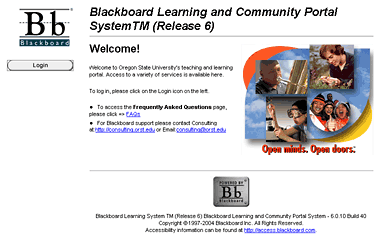 Several Ecampus courses include a "Preview" function in Blackboard, which lets you peak into the online "classroom" before you have registered. Follow instructions below:
Login to Blackboard at http://my.oregonstate.edu/, and hit the "login" button.
Now, click on the "preview" button to the left.
Select the "courses" tab at the top for a listing of online courses in Bb.
Courses are listed by subject. Several have a preview function, indicated on the right of the title.
Or, for direct access to preview the following courses, click on the title below (you must first complete steps 1-2 above):
Learn about new courses
Extended Campus is developing new courses every term. To receive updates on new courses and course highlights, subscribe to OSU E-News, our e-newsletter that includes a once-a-term "Course Flash" issue.