Oregon State University Ecampus • OSU Degrees Online
---
Explore Ecampus
Serving America's military
Maximize your GI Bill benefits while honoring your career, family and other life commitments.
Ecampus E-News Winter 2013

Published by: Oregon State Ecampus
Oregon State University, Corvallis, Ore., Vol. 15, No. 2
Winter edition – Dec. 5, 2012
ecampus.oregonstate.edu
800-667-1465
---
1. Not even the apocalypse can stop us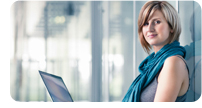 Unless the Mayans were correct, winter term with Oregon State Ecampus is less than a month away, giving you another opportunity to study at one of the nation's top-ranked online universities.

If the world does end before then, well, at least your intentions were good.

Nevertheless, this issue of Ecampus E-News introduces you to our newest online program, a virtual career fair, cool news about Ecampus students and other resources to help you succeed academically.

Winter term starts Jan. 7, and there's still time to register if you haven't done so. And don't forget to order your textbooks early from the OSU Beaver Store to receive them before the term starts..
---
2. New counseling program is a beacon of hope

Oregon State University addressed the state's need for additional K-12 counselors last month by launching an off-campus master's program in school counseling, one whose statewide outreach should yield increased student success, according to OSU President Ed Ray.

The university's new M.S. in Counseling program is delivered in a flexible online and face-to-face format by Ecampus, and it aims to bring comprehensive counseling services to all students and increase college-going rates among underrepresented populations.

To provide schedule flexibility for Ecampus students, 50 percent of the instruction will be delivered online and 50 percent will be conducted in face-to-face classroom meetings, held on weekends twice a term in Salem.

Visit the Ecampus website for information on curriculum and how to apply to this accredited program for its 2013 cohort.
---
3. We're bringing employers directly to you

Distance students face a number of unique obstacles, but connecting with potential employers shouldn't be one of them. And from now on, it won't be.

In an effort to link our distance students to leading industries all over the world, Ecampus will offer OSU's first-ever virtual career fair on Feb. 20. Students and alumni will be connected to recruiting employers for the opportunity to network and explore current job and internship opportunities with companies and organizations who intentionally seek out OSU graduates.

This is a can't-miss event for students who are unable to attend campus-based events at OSU or elsewhere. More information will soon be sent to you regarding the Ecampus virtual career fair, so stay tuned.

---
4. Online classes a nice fit for OSU football

In case you've missed it, the Oregon State football team has thrived this season, posting a 9-3 record with a high national ranking and a date with Texas in the Alamo Bowl.

But behind all the glitz and glamour is a whole lot of hard work -- on the field and off it -- and Ecampus is proud to play a role in that for some players, including wide receivers Kevin Cummings and Obum Gwacham.

Their affinity for OSU's online courses has helped them strike the right balance between academic success and the team's storybook season.

Visit the Beavers gameday page for all the info you need about this month's Alamo Bowl.
---
5. Successful natural resources academy is back
Oregon State is America's natural resources university, a distinction we've earned by providing students and professionals worldwide with unique opportunities to study under OSU's expert faculty.



And there's no better opportunity to learn from and network with those in the field than OSU's second annual Natural Resources Leadership Academy (NRLA) this summer.

Held June 17-21 and 24-28 in Corvallis, the academy is designed for natural resources professionals and graduate students. Pre-registration begins in February, and graduate and continuing education credits are available.

The weeklong leadership seminars deliver diverse instruction in the areas of conflict management, communication, sustainable natural resources and leadership to people from all over the world.

To learn more, here's a short video featuring Ed Weber, an OSU professor of public policy and the NRLA's lead faculty member.
---
6. Ambition and success top this alumna's list

If you're wondering how to succeed as an online student with a demanding work schedule, look no further than the example set by Kate Brinkley.

Brinkley took Ecampus classes from South Carolina, and she graduated magna cum laude from Oregon State with a bachelor's degree in environmental sciences, all while serving as a marine science technician for the United States Coast Guard.

Her secret to staying on track? Making lists. Lots and lots of lists.

Now she's using her OSU degree and hands-on work experience to carve out an even more successful future for herself. Her determination serves as further proof that it can be done.
---
7. You can take Ecampus for a test drive

Earlier this fall we developed a brand new Ecampus Course Demo that lets you experience life as an online student with OSU before you enroll.

Our enhanced demo allows you to:
Get a peek at the kind of content regularly featured in Ecampus courses.
Hear from some of the world-class instructors who teach OSU's online classes.
And test some of the innovative technologies we use to enhance learning opportunities.
Try it and discover why we're ranked one of the nation's best providers of online education.
---
8. OSU is the place for continuing education

The need for educational enrichment doesn't subside once you've earned an OSU degree and landed a job. Countless people -- gardeners, pharmacists, engineers, veterinarians and others -- rely on continuing education programs to maintain personal and professional growth.

That's where OSU Professional and Noncredit Education comes into play. The unit provides online and on-site education and training for businesses, organizations, associations and professionals anywhere throughout Oregon and beyond.

The majority of OSU's professional and noncredit students are focused on continuing education: licensure recertification, professional development and personal enrichment.

If you're a specialist who needs opportunities to learn new skills and stay on the cutting edge, subscribe to the Professional and Noncredit Education monthly newsletter and learn more about its many offerings.
---
9. Like us and we'll love you back

The best way to stay in touch with Ecampus and hear about news and events is through our online communities on Facebook, Twitter and Google Plus. Learn more about the benefits of taking courses online, browse photos, ask questions, meet other Ecampus students and be the first to know about upcoming events, contests and more.
---
Thanks for reading Ecampus E-News. Want E-News in your inbox? Subscribe to Ecampus E-News today!

Features and Navigation
Media inquiries
If your publication would like to feature an OSU Ecampus online program, student or instructor, please contact Tyler Hansen.
For journalists
Gather quick facts about OSU Ecampus, our history and students on our webpage for members of the media.
Award-winning electronic newsletter
Where Ecampus is making the news
Staff, student and course honors
Ranked top 10 in the nation
OSU Ecampus earned a top 10 ranking for the fifth year in a row on a list of America's best online bachelor's programs. Learn more »