Oregon State University Ecampus • OSU Degrees Online
---
Ecampus fact
Ranked top 10 in the nation
Ecampus earned a top 10 ranking for the fifth year in a row on a list of America's best online bachelor's programs.

OSU E-News
"Your Electronic Link to Learning at a Distance"

Published by: OSU Extended Campus
Oregon State University, Corvallis, Oregon; Vol. 6, #4
June 25, 2004
http://ecampus.oregonstate.edu --> Check us out!
800-667-1465
Welcome to the first week of summer term! In this issue, read about graduation and some exciting new student services we'll be launching this summer that will make answering your questions much easier and more timely. And remember, you can e-mail your feedback and ideas for E-News to the editor at Linda.Wallace@oregonstate.edu.
---
IN THIS ISSUE ~ Summer 2004
CALENDAR
BULLETIN BOARD
- Register Now for Fall
- OSU Tuition Update
- Visit the Women's Center Website
COURSE HIGHLIGHTS
- Openings Available in Anthropology Courses
- Need a Math Course? Lots to Choose From!
- Other Course Options
ECAMPUS NEWS
- Commencement 2004 Highlights
- Student Services Survey Results (That's a Tongue Twister!)
- Live Chat, Knowledge Base, Other New Web Features
OSU NEWS
- Ecampus Student Speaks at OSU/John Glenn Dinner
THE STUDENT PERSPECTIVE
TECH TIPS
- Check out OSU's Software Tips Site
---
CALENDAR
Please keep the following dates and deadlines in mind for summer and fall terms:
June 21: Most summer classes begin - visit
http://oregonstate.edu/summer/2004/register.html
for registration info, add/drop dates for each summer session
June 2 – September 26: Fall registration continues
July 5: Independence Day (University holiday)
September 6: Labor Day (University holiday)
September 27: Fall classes begin; late registration fee assessed
---
BULLETIN BOARD
- Register Now for Fall
If you have not already registered for fall term, get busy! Although you can register up until the day before classes begin, September 26 (or later, if you don't mind paying a late fee), classes are filling quickly. Check the schedule of classes /soc/default.htm to see all the great courses still available.

- OSU Tuition Update
Oregon State University will increase tuition beginning Fall 2004. Visit /services/tuition/default.htm for information on tuition for OSU Extended Campus courses.

- Visit the Women's Center Website

In late March, the OSU Women's Center unveiled their new website: http://oregonstate.edu/womenscenter, which provides students, staff and faculty with many new options and features, including those features which address the needs of students who live off-site.
The Women's Center mission statement says, in part: "The OSU Women's Center empowers and celebrates women in all their diversity and supports the achievement of their personal and professional goals by providing education, advocacy, and a safe, inclusive environment."
If you would like information about any women's issue, just go to the website and type your question under About Us…Ask A Question. And under the Library link, you'll find over 1400 books in the Center that are available online.

================================================================================
COURSE HIGHLIGHTS
- Openings Available in Anthropology Courses
Our Ecampus Anthropology course offerings have grown! We are now pleased to offer: ANTH 110*, ANTH 210*, ANTH 240, ANTH 330*, ANTH 350, ANTH 380*, and ANTH 430. (* denotes courses that fulfill a Bacc Core Requirement.) To view the Anthropology offerings for the 2004-2005 school year, go to: /soc/default.htm, then go to the side navigation and select courses by term and subject (Anthropology).

If you are interested in a comprehensive understanding of human societies and cultures past and present, you should try one of our Anthropology courses.
- Need a Math Course? We Have Lots to Choose From!
Just look at what we are offering for Fall 2004: MTH 103, 105, 111, 112, 211, 212, 241, 245, 251, 252 and 390. Select Mathematics on our Schedule of Classes page for more info.
- Other Course Options
If you are a Natural Resources or Environmental Sciences major, check out these brand new field courses taught on-site in the beautiful Wallowa mountains of Oregon: FOR 281X, 381X, 382X. Visit the Wallowa Resources Field Program webpage for more info:
/online-degrees/wallowa/default.htm
Try our newest online English course this fall: ENG 465 The Contemporary Novel.

As always, visit our Course Flash webpage and each course syllabus for additional course information: http://ecampus.oregonstate.edu/enews/
---
ECAMPUS NEWS
- Graduation 2004 Highlights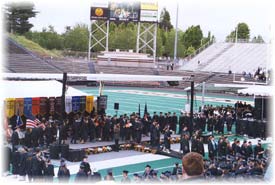 What were once dreams became reality for several Ecampus students as they attained a long sought-after goal at OSU graduation on June 13, 2004. Forty-one Ecampus students received their degrees this past year, 19 of them spring term.
Several Ecampus students took time out of their busy lives to travel to Corvallis and get the true feeling of commencement, as they fell in line with over 4,200 other OSU students who picked up their diplomas in Reser stadium. The new grads listened to several speakers, including former astronaut and senator John Glenn. Afterward, Ecampus staff and faculty met with those students who were able to attend the commencement reception at the CH2M Hill Alumni Center.
Visit our graduation page to see who completed this rewarding goal. You can also read about three remarkable Ecampus graduates that we have highlighted there: Kim Landry, Danny Orris and Christine Roberts.

- Student Survey Yields Results
by Kay Bell, Ecampus Enrollment Coordinator
Thanks to everyone who completed our recent survey, Ecampus Student Services will be growing and changing to meet your needs. We sent our survey to nearly 1,200 students enrolled winter and spring 2004 to help us evaluate the quality and effectiveness of our services. We also asked for your input regarding additional help you might need.
Many of you said the most valued new service would be career advising. We are currently working with OSU Career Services for new and better ways that distance students can learn about job hunting techniques, practice mock interviews, access on-campus recruiters for job interviews, and much more. Stay turned to our website for more information on this, coming soon.
In addition, you told us that you would like to have a searchable knowledge base on our site that would allow you to find answers to your questions 24/7. Read about this project, below…

- Live Chat, Knowledge Base, Other New Web Features
by Gayle Logue, E-learning Systems Analyst
Although we love to talk with our distance students, we know you have questions long after we've gone home for the day. So, starting in July, Ecampus will launch its new online communication center called "Ask Ecampus." Whether you're just visiting, or are already an Extended Campus student, you'll be able to get answers to your questions and online assistance regarding Ecampus programs and services. Our knowledge base and online forums have been designed to provide you with 24-7 quality service; online chat will have chat times posted.

- Knowledge Base: Simply ask a question, and you'll have access to our Ecampus knowledge base, which includes answers to hundreds of questions, and is regularly updated for you to receive the very latest information. You can also browse all questions and answers by category. (24-7)
- Live Chat: Engage in real-time conversation with Ecampus staff, advisors and instructors. Scheduled sessions will be posted.
- Online Forum: Participate in posted discussions covering a variety of topics with Ecampus staff, instructors, and other students. (24-7)
Visit our home page http://ecampus.oregonstate.edu after July 1, when we announce the URLs for these great new student services.
---
OSU NEWS
- Ecampus Student Speaks at OSU/John Glenn Dinner
Christine Roberts, one of the OSU Extended Campus students featured on our graduation highlights page was chosen by the president's office to speak at the commencement dinner, held after graduation ceremonies on June 13. The dinner was hosted by OSU President and Mrs. Ray, with distinguished guests former senator and astronaut John Glenn and Annie Glenn, and OSU and community leaders.
John Glenn, left, shakes hands with Ecampus graduate Christine Roberts. Annie Glenn looks on.
Ms. Roberts was nominated by Ecampus staff and selected as the only OSU undergraduate representative to speak at the dinner. She received a standing ovation for her moving story on how completing her education will allow her to pursue her dream of becoming an English teacher. Roberts has dealt with a lifelong disability and is now confined to a wheelchair.
We are honored to include some excerpts from her speech:
"Through the requirements of my baccalaureate core classes, I have humbly realized that for all biases held against me in my lifetime, I, too, held a few of my own. I came to see that intellectual sophistication requires judgmental objectivity, and that embracing the wonders of my own culture means appreciating the validity of competing world views.
"Moral maturity requires that, at some point, we accept that no man is an island and that change requires not just that we speak of problems, but that we become accountable for finding solutions…
"People often say, "Christine, you are such an inspiration." While I am humbled and honored at such a compliment, I realize there is a fine line between being an inspiration and being an influence. Inspiration affects people's emotions, but influence has the power to change people's lives. This distinction is what separates Christine before my time at OSU, and the woman before you today. I will no longer be admired, I will now command respect. I am not floating around in a sea of uncertainty, I have a direction…for I now identify not with my disabilities, but my ability to lead, teach, and change the lives of others . . . I have found the shore."
---
THE STUDENT PERSPECTIVE
"Words of Wisdom"
Students who completed our recent survey responded enthusiastically to our request for advice to prospective students. The following are just a few of their "words of wisdom" to those students about to begin their academic journey via online learning.
"Stay organized, and self motivated. I call it wrestling the beast!"
"Don't procrastinate, formulate and stick to a schedule."
"Order materials well in advance."
"Check Blackboard everyday."
"Don't get discouraged about technical aspects. It gets easier."
"Communicate! Ask questions! Of Ecampus, OSU, other students, advisors, etc."
"Don't assume it will be easier than an actual classroom."
Thanks for passing on this great advice, students!
---
TECH TIPS
- Check out OSU's Software Tips Site
Visit OSU's Software Tips website for helpful reminders to keep your valuable communication tool (your computer) running smoothly. There are also tips about email (rich text vs. plain text and HTML), and much more. (View different subjects on left side navigation.)
http://tss.oregonstate.edu/cn/soft_tips/?page=home&type=normal
And don't forget our Ecampus Technical Help page, to direct you to other helpful information: http://ecampus.oregonstate.edu/services/technical-help.htm
---
Thank you for reading this edition of OSU E-News. If you know others who would enjoy receiving this newsletter, please e-mail it to them, or tell them about our auto-subscribe function at: http://ecampus.oregonstate.edu/enews/
To be removed from this list, reply to this message with "unsubscribe" in the subject header.
OSU Extended Campus
http://ecampus.oregonstate.edu
800-667-1465

Got an idea for a future article, or feedback on past editions?
Please email our editor, Linda.Wallace@oregonstate.edu

Features and Navigation
Media inquiries
If your publication would like to feature an OSU Ecampus online program, student or instructor, please contact Tyler Hansen.
For journalists
Gather quick facts about OSU Ecampus, our history and students on our webpage for members of the media.
Award-winning electronic newsletter
Where Ecampus is making the news
Staff, student and course honors
Ranked top 10 in the nation
OSU Ecampus earned a top 10 ranking for the fifth year in a row on a list of America's best online bachelor's programs. Learn more »