It's a fundamental question that students ask us all the time.
"How do I take an exam in an online class?"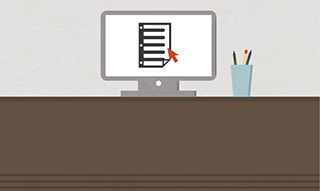 There are a variety of options, and one that Oregon State Ecampus instructors use frequently is called proctoring. A proctor is someone who supervises a student during an exam to ensure academic integrity.
That sounds simple enough, but how do you find a proctor in your area? What's the process of scheduling a proctoring appointment? This quick tutorial will answer those questions and more about proctored exams with OSU Ecampus.
1. So how does it work?
Your Ecampus instructor will inform you when a test requires a proctor. Please note that it is the student's responsibility to schedule an appointment with a proctor.
During the exam, the proctor will go over the exam instructions (as noted by your instructor) and act as a supervisor until you complete the test. You will then submit the exam to your instructor for grading. If the instructor assigns a paper exam, check with your proctor for their policy on paper exams.
Additionally, ProctorU is a well-respected online service that has its own procedures to ensure academic integrity.
2. Where can I find a proctor?
You have plenty of options when it comes to finding an acceptable proctor for your exams. Here are some notable possibilities:
3. Where do I go to submit a proctor for approval?
Once you have an OSU Network ID (ONID) account, use it to log in to the exams and proctoring form and enter the courses for which you need to arrange proctoring. Then you can select the type of proctor you want (off-campus or on-campus) and choose a time and date that works best for you.
4. How far in advance should I make a proctoring appointment?
Students should submit their proctor information at least one week in advance (preferably more). It will then take Ecampus a few days to process the request.
5. What is Ecampus' role in all of this?
All Ecampus needs to know is which proctor you plan to use so we can approve the proctor and send them the exam information. Ecampus serves as the liaison between your instructor and the proctor.
6. Can someone at Ecampus help me if I have questions?
Absolutely. Contact us at 800-667-1465 or ecampustesting@oregonstate.edu if you need help. You can also learn more online about proctoring with OSU Ecampus.