Commencement 2006
Ecampus Graduates Make the Trek to Commencement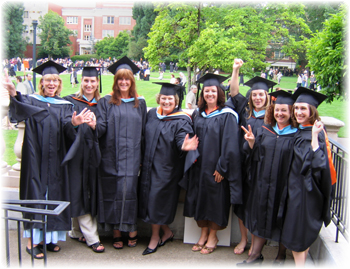 The 2003 cohort of the Master's in Adult Education program pose at 2006 OSU Commencement.
During the 2005-06 academic year, 71 students finished their degrees through Extended Campus, as compared to 49 in 2004-05. Ecampus students who attended commencement in Corvallis on June 18, journeyed from Wisconsin, Wyoming, California and Idaho, as well as several locations throughout Oregon. But the student traveling the greatest distance was Sarah Van Middlesworth, who completed her OSU degree in Natural Resources while living in London, England.
Ecampus students received bachelor's degrees in General Agriculture, Environmental Sciences, Liberal Studies, and Natural Resources, as well as master's degrees in Education. Way to go, grads!
Featured Ecampus Graduates
Jason Axness
- BS General Agriculture
Alexander Dale
- BS Natural Resources
Tammi Hitt
- BS Environmental Sciences, Cum Laude
Gina Kerzman
- BS General Agriculture, Summa Cum Laude
Connie Kilkenny
- BS Liberal Studies, Summa Cum Laude
Lisa Little
- BA Liberal Studies, Magna Cum Laude
Katie Paulson
- Ed.M. Adult Education
Richmond Petty
- BS Natural Resources
Sarah Van Middlesworth
- BS Natural Resources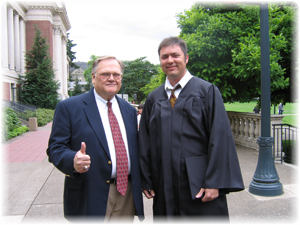 Ecampus Dean Bill McCaughan gives the "thumbs up" to Richmond Petty from Inkom, Idaho, who completed his B.S. degree in Natural Resources.

List of 2005-06 Ecampus graduates by term
Fall 2006
Brewster, Suzanne Marie - MAT/Elementary Education
Crawford, Lorri L - BS Natural Resources, Summa Cum Laude
Dolan, Thomas John - BS Natural Resources
Echauri, Kay Ann - BS Liberal Studies, Cum Laude
Gibbons, Sandra Jean - BS Natural Resources
Peninger, James Michael - BS Environmental Science, Cum Laude
Winter 2006
Caraway (Hale), Felicia Anne - BS Liberal Studies, Cum Laude
Hitt, Tammi Lynn - BS Environmental Science, Cum Laude
Irving, Patrick Cha - BS Liberal Studies
Muceus, Anna Maria - BS Natural Resources
Odland, Beverly Lynn - BS Natural Resources
Strickland, Stacy Ann - BS Natural Resources Magna, Cum Laude
Van Middlesworth, Sarah Kaye - BS Natural Resources
Ware, Barbara A - BS Environmental Science, Cum Laude
Spring 2006
Abraham, Corey Russell - EdM Adult Education
Axness, Jason Keith - BS General Agriculture
Beaudette, Shannon Maureen - BS Liberal Studies, Magna Cum Laude
Berrigan, Marie Yvonne - BS General Agriculture
Bower, Ruth Ann - BS Natural Resources
Brenkus, Danielle Marie - EdM Adult Education
Brittain, Lisa Lorraine - BS Natural Resources
Burley, Hali Malka - EdM Adult Education
Campbell, Sara Jean - BS Natural Resources
Cockrum, Mitchell Anthony - EdM Adult Education
Cooley, Jane Ramona - EdM Adult Education
Cowan, Kyle E - BS Liberal Studies
Dale, Alexander Paul - BS Natural Resources
Dermody, Michelle C - EdM Adult Education
Dumdeang, Patricia Kay - EdM Adult Education
Flores, Mary Helen - BA Liberal Studies
Hanna, Kathryn Palumbo - EdM Adult Education
Hermann, Tanja Antonia - BS Natural Resources, Summa Cum Laude
Hooper, Susan KV - EdM Adult Education
James Wildfang, Kathleen (Kate) - EdM Adult Education
Kerzman, Gina D - BS General Agriculture, Summa Cum Laude
Kilkenny, Constance Louise - BS Liberal Studies, Summa Cum Laude
May Schroeder, Jennifer Dawn - BS Environmental Science
Mc Kuhn, April Jennifer - BS Liberal Studies
Moore, Sasha Marie - MAT/Elementary Education
Noss, Myra June Wilson BS Liberal Studies
Nowak, Erin Rose - BS Environmental Science
Paulson, Katie Videtta - EdM Adult Education
Perkins, Megan Isabella - EdM Adult Education
Petty, Richmond Alan - BS Natural Resources
Rebagliati, Lisa Friede - EdM Adult Education
Richardson, Skye - BS Environmental Science
Robertson, Karen Sue - EdM Adult Education
Snider, Jackie T - EdM Adult Education
Stallions, Neal Anthony - BS Environmental Science, Cum Laude
Stewart, Gary Louis - EdM Adult Education
Stonesifer, Stacey Lynn - EdM Adult Education
Stroop, James (Jim) David - EdM Adult Education
Vaughn, Denise Phyllis - BS Liberal Studies
Warner, Danielle Allison - BS Natural Resources
Waters, Theresa Joy - MAT/ElemEd/TCE, Cum Laude
Weimer, Leanna E BS - General Agriculture
Summer 2006
Valladao, Roberta Edwina - BS Natural Resources
Barker, Marie Janinne - BS Liberal Studies
Broderick, James BS - Natural Resources, Summa Cum Laude
Feucht, Susanne Christine - BS Natural Resources
Flux, Noelia F - BA Liberal Studies, Cum Laude
Little, Lisa A - BS Liberal Studies, Magna Cum Laude
Perry, Greg John - BS Natural Resources, Summa Cum Laude
Pollard, Michelle Lynn - BS Liberal Studies
Reo, Jennifer Lynn - BS Natural Resources
Rockwell, Michelle - BS Liberal Studies
Van Landuyt, Brandie Jean - BS Natural Resources