OSU Ecampus Awards and Appointments
Here is a showcase of Oregon State University faculty and Ecampus staff, students and courses that have won awards, or OSU faculty and Ecampus staff who have been appointed or elected to prestigious positions outside of the university.
U.S. News: Oregon State a top-5 institution for veterans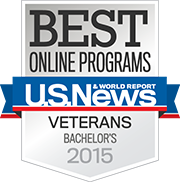 May 19, 2015 – Long considered one of the nation's most "military friendly" universities, Oregon State added to that prestige this week when its online bachelor's degree programs were ranked No. 4 in the nation for veterans by U.S. News & World Report.
The rankings identify 185 programs that provide veterans with high-quality, flexible online bachelor's programs. Oregon State now delivers 20 such programs via OSU Ecampus. To be ranked, institutions must be certified for the GI Bill, and the online programs must belong to schools that participate in the Yellow Ribbon Program or to public institutions that charge in-state tuition for all out-of-state veterans. Ecampus satisfies all criteria.
See the complete rankings and methodology.
Two anthropology students win major university awards
May 18, 2015 – Mindy Proski and Aryn Sanderson are further proof that Oregon State's best and brightest learners study online as well as on campus. The two Ecampus anthropology students each earned high honors from OSU while learning at a distance.
Mindy, a resident of Gladstone, Oregon, was awarded the Waldo-Cummings Outstanding Student Award. It is given annually to 10 undergraduates in recognition of academic excellence and is one of the most prestigious honors bestowed by OSU.
Aryn received the College of Liberal Arts Outstanding Senior Award, which recognizes exemplary academic achievements, university and community service, and personal and professional goals. Aryn, who lives in The Dalles, Oregon, will receive her diploma next month at the Oregon State commencement ceremony in Corvallis.
OSU online programs ranked 5th nationally by U.S. News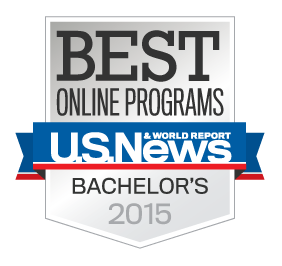 Jan. 7, 2015 – Oregon State University bolstered its reputation as one of America's best providers of online education, with its online bachelor's degree programs now ranked fifth in the nation by U.S. News & World Report.
OSU's Ecampus online education program scored 95 points out of 100 in the rankings, which include nearly 300 higher education institutions. Schools were assessed based on student engagement; faculty credentials and training; peer reputation; and student services and technology.
See the complete rankings and methodology.
Ecampus named Oregon's best online education program
Sept. 12, 2014 – The Ecampus distance education program at Oregon State University was named the best online college in Oregon by TheBestSchools.org, an organization that provides in-depth ranking of degree programs, colleges and universities. The rankings are based on academic excellence, faculty strength, online teaching methods, awards, the number of programs offered and other criteria, organization officials said.
"OSU's dedication to online education has brought us to regard it as the best online college in Oregon," said Wayne Downs, the site's managing editor. This is the latest in series of prestigious rankings for OSU Ecampus, which is widely regarded as one of the nation's best providers of online education.
Marketing and Enrollment Services team wins gold – twice
Sept. 12, 2014 – For the fourth straight year, Oregon State Ecampus received multiple marketing awards from the University Professional and Continuing Education Assocation (UPCEA). Ecampus' Marketing and Enrollment Services department won gold in the Interactive Media category thanks to its Ecampus in 30 Seconds video campaign on YouTube. Ecampus also earned top honors in the Outdoor/Billboard Signage category.
UPCEA is a leading association for online education, serving more than 400 public and private colleges and universities in North America.
Ecampus recognized for its 'outstanding' faculty development program
Aug. 16, 2014 – The Online Learning Consortium (formerly known as the Sloan Consortium) named the Oregon State Ecampus faculty development program as the recipient of the 2014 OLC Award for Excellence in Faculty Development for Online Teaching. This is one of the most prestigious awards given in the field of online learning.
Shannon Riggs is the director of the Ecampus course development and training team, which coordinates the faculty development program. The award recognizes an institution that has developed and delivered an outstanding, comprehensive program for faculty professional development in online teaching.
American Marketing Association tabs Ecampus as a winner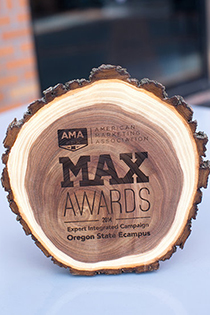 June 11, 2014 – Oregon State Ecampus earned a notable distinction from the American Marketing Association's Portland division, winning top prize in the Expert Integrated Campaign category at the AMA PDX MAX Awards.
The honor recognized Ecampus for its "Top-ranked in the Nation" campaign. The category takes into account strategy, creative/design, specific tactics and results. These broad, regional marketing efforts were produced by Ecampus' Marketing and Enrollment Services team.
Ecampus director Riggs honored as faculty leadership 'Hero'
May 12, 2014 – Shannon Riggs, the OSU Ecampus director of course development and training, received the Professional Faculty Leadership Association's "Our Hero" award for May 2014. Riggs, who started at Ecampus in May 2011, was recognized for helping faculty across campus discover different and better possibilities in their course design.
Computer science faculty fêted for their innovation
April 16, 2014 – The collective excellence of instructors in OSU's post-baccalaureate online program in computer science are a major reason why the program is attracting a record number of students. That excellence also helped those instructors win the 2014 Innovation in Online Credit-based Teaching Award.
The honor is part of the Vice Provost Awards for Excellence ceremony, which is presented by the Division of University Outreach and Engagement. The award is given to candidate(s) who have pioneered an innovative approach to the design or execution of teaching online. Instructors and program administrators who were honored are Terri Fiez, Justin Wolford, Justin Goins, Joseph Jess, Samina Ehsan, Karti Mayaram, and Padma Akkaraju.
U.S. News & World Report labels OSU a 'Best Online Program'
Jan. 8, 2014 – Oregon State Ecampus is now a badge-eligible "Best Online Program" as ranked by U.S. News & World Report. Of the 275 universities and colleges who submitted data for U.S. News' second annual Best Online Education rankings, OSU ranked 46th in the category of Best Online Bachelor's Programs. That places OSU in the top 16.5 percent of all universities who submitted data. Among land grant universities in the report, Oregon State ranks No. 5 nationally.
Website redesign, focus on responsiveness nets bronze medal
Nov. 7, 2013 – Members of the Oregon State Ecampus marketing team took home the Interactive Media Bronze Medal at this year's University Professional and Continuing Education Assocation marketing conference. Ecampus earned the third-place prize for its mobile-responsive website redesign, making the site more user friendly across all browsing platforms and enabling learners and prospective students to gather the information they need more effectively.
OSU named one of nation's 10 best public online colleges
Sept. 25, 2013 – Citing Oregon State's quality academic standards, student learning outcomes, technological advances and the availability of financial aid, editors of the highly utilized website AffordableCollegesOnline.org today ranked OSU 10th on its inaugural list of the nation's Best Public Online Colleges. Delivered online by Ecampus, OSU's online programs enable students to be "part of a diverse global community at an institution that is respected nationally for its work in sustainability and renewable energy."
Hawaii's Hurley, professor Gregory win UPCEA West's top honors
Sept. 2, 2013 – Mary Ellen Hurley, a 2013 OSU graduate, is this year's recipient of the Outstanding Non-Traditional Student Award from the University Professional and Continuing Education Assocation's West Region. Mary Ellen earned a B.S. in Sociology online while living in Kauai, and her inspiring story was featured by OSU President Ed Ray in his commencement speech in June. This is the third straight year an Ecampus student has won the West Region award, following Erika Busch in 2011 and Sarah Price in 2012.
Stan Gregory earned UPCEA's Excellence in Teaching Award based on his never-ending commitment to improving the learning experience for his distance students. Stan is known for his innovation as an online course developer, outstanding mentorship of students and colleagues, and overall expertise as an ecologist. He is the second Ecampus instructor to win the award in the last three years; Dan Edge (also from fisheries and wildlife) won the regional and national awards in 2011-12.
Four years and counting for Ecampus on national top 25 lists
July 16, 2013 – In what has become an annual theme for Oregon State University, its online education programs are considered among the very best in America according to a newly released ranking for the 2013-14 school year. SuperScholar researched and evaluated regionally accredited online schools and determined that OSU Ecampus is the 12th best in the nation when it comes to online education.
The independent website based its findings on program quality, marketability and affordability. This marks the fourth straight school year in which Ecampus was ranked by a national organization.
Ecampus advisor, faculty member snag awards for student service
April 23, 2013 – A good advisor is invaluable to a college student, and OSU Ecampus is fortunate to have plenty on hand. Kerry Thomas fits the bill, and the College of Liberal Arts advisor has been honored for her excellent work by the National Academic Advising Association. Thomas is a 2013 recipient of NACADA's Certificate of Merit in the Primary Advising category.
The role of advisor often extends to faculty, too, and highly popular Ecampus instructor Kevin Ahern, Ph.D., is this year's winner of the NACADA Outstanding Faculty Advising Award. Ahern teaches courses in the Department of Biochemistry and Biophysics, and he is also OSU's director of undergraduate research.
Price's resolve lands her national student award
Feb. 21, 2013 – Nine months after earning her Oregon State degree online and meeting Michelle Obama, the rewards keep rolling in for Sarah Price. The 27-year-old Ecampus graduate has been named the nation's Outstanding Continuing Education Student by the University Professional and Continuing Education Association (UPCEA), which serves more than 350 institutions in North America.
Price's lifelong struggle against poverty was beaten back by her quest for an education. The San Diego resident, military wife and mother of three earned a bachelor's degree in liberal studies online last June.
---
For previous Ecampus awards and appointments, visit our awards archives.