Oregon State University Ecampus • OSU Degrees Online
---
Quality Matters (QM) is a continuous improvement model for assuring the quality of Oregon State Ecampus courses through a collegial faculty peer review process that seeks to improve student learning experiences and success. The focus of QM is on improving course design as opposed to the delivery of the content.
QM has been an invaluable resource in higher education for 10 years, counting more than 700 international institutions among its subscribers. Put simply, QM is the gold standard for online/hybrid course design quality.
Enroll in an Ecampus QM training session
Each term Ecampus offers a one-day workshop that will introduce you to the Quality Matters rubric and the process of using it to review online courses. Register today »
Two ways to get involved
Volunteer to have a course reviewed. Courses must have been taught at least once. Volunteers first work with an Ecampus instructional designer, who provides a pre-review using the QM rubric. The instructional designer then works with the faculty member to make modifications, if needed, before proceeding with the official QM review.
Become a QM peer reviewer. Two trainings are required to become a peer reviewer: Applying the QM Rubric (APPQMR) and Peer Reviewer Certification (PRC). APPQMR is a one-day training offered on campus several times per year, and PRC is a two-week training offered online.
More about QM standards
The QM program examines whether learning outcomes align with the content and assessments selected for a course. It does not make a judgment about the content itself, nor does it evaluate actual teaching.

QM focuses on the improvement of course design rather than how the content is delivered. Course design includes accessibility, ease of navigation, the appropriate use of technology and availability of learner services information (disability access, technology support, etc.).
Course reviews are guided by the QM rubric, which is based on national standards of research, best practices and instructional design principles. QM's 41 specific standards fall into eight categories:
Course overview and introduction
Learning objectives (competencies)
Assessment and measurement
Instructional materials
Learner interaction and engagement
Course technology
Learner support
Accessibility

Features and Navigation
Ranked top 10 in the nation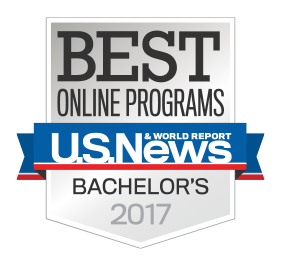 OSU Ecampus earned a top 10 ranking for the third year in a row on a list of America's best online bachelor's programs. Learn more »