About Online Learning
We understand that today's student cannot always relocate or adjust their schedules to complete or advance their education. Whether you're at home, on the road, or traveling outside the U.S., Oregon State Ecampus can open the door for you to pursue your educational goals. The majority of Eampus courses are delivered online and can be conveniently accessed anytime, from anyplace. We like to call it a flexible learning solution.
Online learning effectiveness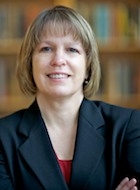 "Having an online discussion over the period of several days can allow for more developed thinking than a 15 minute discussion."
Becky Warner
Vice Provost of Academic Affairs and International Programs.

Review the research that has been conducted supporting the fact that learning takes place online just as effectively as it does in the classroom.

Plus, listen to OSU instructors' comments to discover more about the learning that takes place in their online classroom.
Online Education Trends
Oregon State Ecampus' Online Education Trends website is designed to share information about and developments in the growing field of online learning. Like other leading institutions who are developing online degrees and programs, OSU Ecampus strives to stay on top of the latest online research and trends to better serve our students, instructors, administration and constituents.
Hybrid Course Initiative
OSU established the Hybrid Course Initiative in the fall of 2011 as a concerted effort to redesign selected on-campus courses for hybrid delivery. Through this program, the Center for Teaching and Learning provides instructional design services and facilitation of term-long faculty learning communities composed of small groups of faculty who are engaged in hybrid course redesign.
Your online classroom
Ecampus online courses are developed exclusively for the virtual classroom by experts engaged in the latest distance education technologies. Student-instructor and student-student interactions are highly interactive and typically occur via online discussion boards where you can post comments viewed by all or a select group.

Preview an online classroom in the Ecampus Course Demo.
Student services at your fingertips
When you register for a class through OSU Extended Campus, you are also tapping into extensive University resources, including those designed exclusively for the off-campus student. These services include:
Remote access to the OSU Libraries
Our Extended Campus Student Services Center
OSU Computer Helpdesk
Career Services
Writing help
Explore our enrollment and services section for a full menu of offerings.