Faculty Profiles
Oregon State University Extended Campus faculty members understand the kind of degree programs that fit into your lifestyle as you continue with your career, family and other commitments. Ecampus program leaders, advisers and instructors are committed to helping you achieve academic success as you prepare for your desired career path.
Read more about them below to see what makes them proud to be a part of our growing online and distance education world.
Program leaders/Department heads
Greg Thompson - Agricultural sciences
Jeff Hale – Liberal studies
Sue Helback – Ed.M. Online (for K-12 educators)
Deborah Rubel – Ph.D. in Counseling
Steve Radosevich – Sustainable natural resources (graduate certificate)
Advisers
Dawn Marie Gaid – Environmental sciences
Kathryn Higley – Radiation health physics
Polly Jeneva – Liberal studies
Marge Victor – Natural resources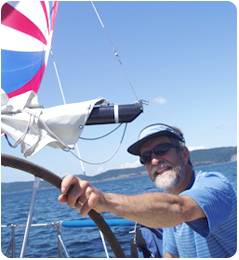 Instructors
Kevin Ahern (featured in Terra) – Biochemistry
Cathi Alden – Master of Education (Ed.M.)
Stephen Binney – Radiation health physics
Mina Carson – Liberal studies
Cub Kahn – Geography
Sunil Khanna (featured in Terra) – Anthropology
Dana Reason (featured on Life@OSU) – Music
Mark Reed – Forest resources
Ron Reuter – Natural resources, forest resources and crop and soil sciences
Paul Ries – Urban forestry

Read what some Ecampus instructors have to say about online teaching effectiveness and distance learning on the about online learning page.
Get more info about all of our degrees and programs.
Find up-to-date Ecampus information on our current students and just looking? pages.