Oregon State University Ecampus • Degrees Online
Ecampus fact
110+ subjects to study
Explore all of Oregon State's online course offerings.
Oregon State at a Glance
We're accredited
Oregon State University is regionally accredited by the Northwest Commission on Colleges and Universities (NWCCU).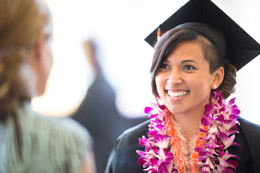 This means that Oregon State has been thoroughly evaluated by leading education authorities to ensure that OSU offers high-quality learning opportunities. Regional accreditation is the highest form and most widely recognized type of college accreditation in the United States.
The courses you complete online through OSU Ecampus will appear on your transcript just as on-campus courses would, and the diploma you earn as an Ecampus student is identical to those earned by OSU's campus-based students.
We're on a quarter term system
Oregon State is on a quarter-based academic calendar, which means we offer four terms of instruction each year (summer, fall, winter, spring).
Please consult with your home institution if you plan to transfer credits to confirm that courses you take will meet your program requirements.
Quarter system
1 quarter credit = .67 semester credit
Semester system
1 semester credit = 1.5 quarter credits

Features and Navigation
Academic calendar
Currently it's winter term. See academic calendar for our quarter term schedule.

Spring term starts March 29.
Summer term starts June 21.
Ranked top 10 in the nation
OSU Ecampus earned a top 10 ranking for the seventh year in a row on a list of America's best online bachelor's programs. Learn more »