Oregon State University Ecampus • Degrees Online
Exam Proctoring
Overview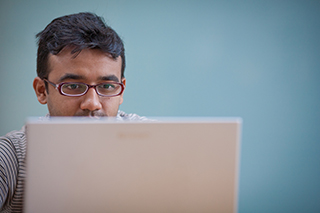 Some of your distance courses require you to take proctored exams. Your instructor will indicate this requirement via the course catalog, course syllabus, a Canvas announcement or an email.
Most proctors charge a fee, and this fee can vary based on the proctors in your area. Proctoring fees are your responsibility as the student.
What is a proctor and why do I need one?
Instructors determine whether a proctor is required for their course and the type of proctor that is acceptable. A proctor supervises you while taking an exam to ensure academic integrity. There are two types of proctors - online and in-person. Online proctors require the use of a webcam and microphone to monitor the testing environment and screen share to monitor your exam, among other settings that are required for online proctoring. Online proctoring is only allowed by OSU approved online proctoring services. In-person proctors must monitor exams in person, not remotely, and be verified and approved by Ecampus Testing.
Courses that use Proctorio for exams have free proctoring for students and no scheduling is needed. Proctorio is an on-demand automated online proctor, so a webcam and microphone are required. For additional information on Proctorio, please review the Proctorio Q&A for Students webpage. If you are unable to use Proctorio due to not having a functioning webcam or microphone, notify your instructor immediately. As an instructor approved exception, you will be responsible for locating an acceptable in-person proctor in your area and paying any associated proctoring fees. If you are unable to use Proctorio due to a DAS-approved accommodation, notify your instructor or Ecampus Testing immediately.
If your course does not use Proctorio for proctored exams, it is your responsibility to locate, submit, and schedule an acceptable proctor in a timely fashion to take your exams. Please learn more about finding a proctor for details on acceptable proctors and then follow the steps below to submit your proctor.
How to submit your proctor
Submit your exams and proctoring form at least two weeks before your first exam each term. We recommend scheduling exams with your proctor as early as possible in the term and no less than one week before an exam window opens.
Log in to the exams and proctoring form and complete these steps to set up your proctor:
Step 1: Review and edit your contact information
Step 2: Enter the course(s) which require proctoring
Step 3: Select or input your proctor(s) information and exams and then submit
Step 4: Review your proctor(s) and exam(s). This step shows if you submitted your proctor and exams successfully.
Please note: After registering for a course, it may take 1-2 business days before the course is available on the form to submit a proctor.
What to expect after submitting your proctor
If you have submitted a proctor that Ecampus Testing has not used before, it will go through a verification process which can take up to two weeks. We encourage you to stay in contact with the proctor you've submitted to ensure they are working through our verification process in a timely manner. Efficient approvals rely on proctor's prompt responses to our communications. New proctors must be submitted by Friday of Week 9 to be reviewed for final exams. If you have extenuating circumstances causing you to miss this deadline, please discuss them with your instructor and have your instructor notify Ecampus Testing, if approved.
Once your proctor has been approved/denied, you will receive a confirmation email to your ONID email informing you of the decision. Then, your exam information will be emailed to your proctor within one week of your exam. You will receive another confirmation email letting you know the exam information has been sent.
Contact your proctor directly to schedule your exams and please ensure they have your exam information. If they do not have your exam information, please contact Ecampus Testing and it can be resent.
If you need to take an exam concerning an incomplete from a past term, please have your instructor contact Ecampus Testing.
On the day of your exam
Government issued photo ID or OSU ID is required
Bring any items allowed by your instructor for the exam (e.g., calculator, book, notes, etc.)
Reminder: Cell phones, laptops, smart watches, tablets and/or PDAs are not allowed during your exam
When you complete your exam, it will be sent to your instructor for grading
Please note: You are responsible for any printing and/or mailing costs associated with paper exams. Please contact your proctor to find out if you need to bring any additional payment or material before your exam.

Features and Navigation
Academic calendar
Currently it's fall term. See academic calendar for our quarter term schedule.

Winter term starts Jan. 4, 2021.
Spring term starts March 29, 2021.
OSU Ecampus earned a top 10 ranking for the sixth year in a row on a list of America's best online bachelor's programs. Learn more »