Oregon State University Ecampus • OSU Degrees Online
---
Ecampus fact
110+ subjects to study
Explore all of Oregon State's online course offerings.
Admissions Requirements and Deadlines
Determine which type of student you are below. Each expandable section contains links to detailed admissions requirements, application deadlines and the appropriate application for you to submit.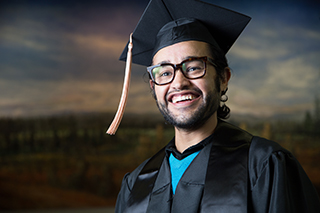 First-year student
You are in high school, a high school graduate or GED holder who has completed fewer than 24 quarter credits (1-15 semester) credits. If you have 1-23 quarter credits (1-15 semester), you will be reviewed on both your high school and college coursework. Refer to the admissions requirements in the expanded menu below for more details.
Transfer student
You have completed at least 24 quarter (16 semester) graded, transferable credits from a regionally accredited college or university since graduating from high school or completing your GED.
Returning to OSU?
Students who have been absent from Oregon State for four or more terms (not including summer terms) and wish to re-enroll must submit a readmission application to the Registrar's Office.
Postbaccalaureate student
You have a baccalaureate degree, and want an additional undergraduate degree or minor.
Graduate student
You have a bachelor's degree and want to enroll in a master's, doctoral or certificate program.
Nondegree-seeking student
You want to take a few courses (such as chemistry or a foreign language) but not complete an entire degree program.
International student
You are NOT a United States citizen and have NOT been granted U.S. Permanent Residency. If you are currently in the U.S. on any type of U.S. visa, please contact the Office of International Services before applying to a degree program with OSU Ecampus. Learn more about studying online with Ecampus as an international student.
Questions?
If you have any questions regarding admissions requirements, please contact the OSU Office of Admissions at 800-291-4192 or osuadmit@oregonstate.edu.
Features and Navigation
Academic calendar
Currently it's spring term. See academic calendar for our quarter term schedule.

Summer term starts June 22.
Fall term starts Sept. 23.
Ranked top 10 in the nation
OSU Ecampus earned a top 10 ranking for the sixth year in a row on a list of America's best online bachelor's programs. Learn more »