Oregon State University Ecampus • Degrees Online
Ecampus fact
28,000+ students worldwide
Learn alongside students in all 50 states and more than 60 countries.
Jason Watts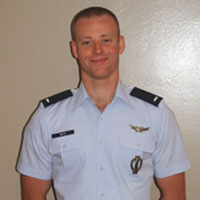 Area of Study
Master of Radiation Health Physics
Military Service
Air Force, 13S- Space and Missile 2008-2011
To what degree does the GI Bill cover your school expenses?
I have used Tuition Assistance. Tuition Assistance is provided by the Air Force independent of the G.I. Bill and is used as an incentive to retain servicemen. Tuition Assistance does not cover all of the expenses for classes but usually covers about 40 to 50 percent depending upon the school. In exchange for using T.A., I agree to continue serving for an additional two years after the completion of the class I used T.A. with. I will be saving the G.I. Bill for a later time, possibly for a doctorate.
What prompted you to return to school?
After my bachelor's degree, it felt as though I was not finished and I needed to continue with the line of study I started. The first year after graduation was spent training for my current position and once completed, I began researching schools to enroll in with a program that would complement my original undergraduate degree. OSU's online master's of RHP fits that bill.
Was adjusting to campus culture a challenge after military life?
It was not difficult at all. The transition has been very easy since with my area of expertise, studying and tests are an integral part of the job.
What has your experience been like at Oregon State University Extended Campus (Ecampus)?
Overall, my experience has been very good working with on-campus students and OSU faculty online through Ecampus. Two examples of this are group assignments being comprised of both on- and off-campus students, so a representative is physically present to represent the distance students or coordinate with an instructor to schedule a final at a time when I would have a better opportunity to complete it.
Do you believe your military experience has made you a better student?
My future with the military is indirectly tied to how well I do on my master's program, and as such, I spend more time and energy on the assignments than I would have if this were part of my undergrad degree.
What advice do you have for veterans returning to school?
Find a school and program that will be useful not just within the military but also outside of the service. There are many online schools offering degrees; choose wisely because not all are of the same quality or reputation, and reputation does matter when presenting a transcript to prospective or current employers.
Additional Comments
The flexibility to watch the Ecampus lectures and complete the assignments when I have the opportunity is very compatible with my rapidly changing schedule. The needs of the Air Force take priority over schooling, but Ecampus is able to fit in between.
---
This Jason Watts profile originally appeared at Military Friendly Schools.

Features and Navigation
Academic calendar
Currently it's fall term. See academic calendar for our quarter term schedule.

Winter term starts Jan. 8, 2024.
Spring term starts April 1, 2024.
Ranked top 10 in the nation
OSU Ecampus earned a top 10 ranking for the ninth year in a row on a list of America's best online bachelor's programs. Learn more »