Oregon State University Ecampus • OSU Degrees Online
---
Oregon State at a Glance

Oregon State University has been making a difference in the world since 1868. Educational outreach is at the core of OSU's mission, and we provide rich learning experiences that help people worldwide advance their careers and improve their lives.
We're a regionally accredited institution
Oregon State University is regionally accredited by the Northwest Commission on Colleges and Universities (NWCCU). This means that Oregon State has been thoroughly evaluated by leading education authorities to ensure that OSU offers high-quality learning opportunities.
Regional accreditation is the highest form and most widely recognized type of college accreditation in the United States.
We're on a quarter term system
Oregon State is on a quarter-based academic calendar, which means we offer four terms of instruction each year (summer, fall, winter, spring). Semester-based institutions offer three slightly longer terms each year.
Quarter credits vs. semester credits
Understanding the quarter-to-semester conversion process enables you to see how combining credits between the two systems will help you achieve your educational goals. Please consult with your home institution if you plan to transfer credits to confirm that courses you take will meet your program requirements.
The following general guidelines help illustrate credit conversions: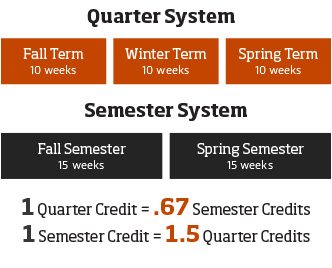 Questions?
If you'd like more information, send us an email at ecampus@oregonstate.edu or call us at 800-667-1465 Monday through Friday between 8 a.m. and 5 p.m. PT.

Features and Navigation
Academic calendar
See academic calendar for our quarter term schedule.

Winter term starts Jan. 7, 2019.
Spring term starts April 1, 2019.
Ranked top 10 in the nation
OSU Ecampus earned a top 10 ranking for the fourth year in a row on a list of America's best online bachelor's programs. Learn more »