Oregon State University Ecampus • OSU Degrees Online
---
Ecampus fact
Ranked top 10 in the nation
Ecampus earned a top 10 ranking for the sixth year in a row on a list of America's best online bachelor's programs.
The Story of Oregon State Ecampus
Our dedication to education spans decades and continents
Oregon State University Ecampus is widely considered one of the nation's best providers of online education. It's a distinction we have spent decades cultivating, with roots in distance education that stretch back to the 1880s when the university delivered pioneering programs on rural farms.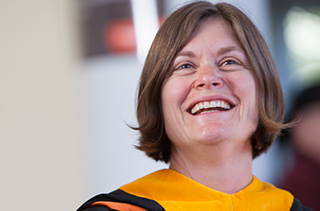 OSU's first complete distance degree program was offered in liberal studies via correspondence and video in the 1980s. Oregon State Ecampus, as the unit exists now, began delivering degree programs and courses online in 2002, and our unit has grown rapidly in recent years in order to meet the 21st century educational needs of learners throughout the world.
Just 10 years ago, Oregon State offered eight undergraduate degree programs online. In the 2018-19 academic year, there are now more than 55 bachelor's and graduate programs available online and at a distance. We're proud to serve students in all 50 states and more than 50 countries, and more than 5,000 distance students have earned an OSU degree online through Ecampus since 2002.
But we are not merely interested in growth for growth's sake. Each new program we deliver online is accompanied by a renewed commitment to academic excellence, teaching innovation and enriching student experiences. Our tireless efforts have not gone unnoticed: For the eighth straight year, Oregon State is ranked among America's best online universities – including No. 3 in the nation by U.S. News & World Report for 2019.
We didn't earn that reputation by accident. We earned it by ensuring our programs and courses are of the highest quality. We earned it by giving students a wealth of options as they seek to improve their lives. And we earned it by doing everything in our power to help students achieve success.
Our standards of excellence will never change. It is our mission to bring Oregon State's expertise to students whenever and wherever they need to learn, making a high-quality education more accessible than ever through OSU degrees online.

Features and Navigation
Academic calendar
Currently it's spring term. See academic calendar for our quarter term schedule.

Summer term starts June 22.
Fall term starts Sept. 23.
Ranked top 10 in the nation
OSU Ecampus earned a top 10 ranking for the sixth year in a row on a list of America's best online bachelor's programs. Learn more »