Oregon State University Ecampus • Degrees Online
Ecampus fact
Unmatched student support
Learn how you'll be supported by Ecampus from application through to graduation.
P-12 Outreach's "A Taste Of College"
July 2007
'A Taste of College' leaves high schoolers with full appetite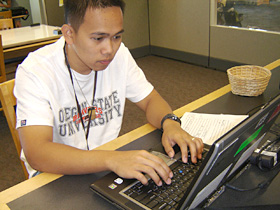 High school students from across Oregon and as far away as the Hawaiian islands took time out of their summer vacations experience what it is really like to live the college life.
"A Taste of College," a two-week college prep program for high school students in grades 10-12 held on the OSU campus, completed its third year on July 6 with 27 students participating. The program, a part of OSU Extended Campus' P-12 Outreach, helps to create a seamless transition from high school to college. Participants live on campus in a residence hall, sample summer classes and explore the university's facilities, including OSU's Hatfield Marine Science Center in Newport and the tsunami research lab on campus. Students who completed the program will earn two college credits.
Students also heard from OSU advisors and staff to learn the basics of getting into college and being successful once there. Skills emphasized in the program include critical thinking, study skills, leadership skills and college writing.
According to Dave Moore, high school program specialist for OSU Extended Campus P-12 Outreach, the college writing portion was boosted to help students improve their writing.
"The college writing activities were enhanced this year and the students were very proud of the thesis they developed," Moore said. "Since the topic of the thesis was a description of what they learned, it was also gratifying to see what they considered important things learned."
High school junior Sarah O'Donnell from Gresham, Ore. thought "A Taste of College's" writing classes were the highlight of her experience.
"The writing classes are what caught my attention," O'Donnell said. "I wanted to learn how to write an interesting essay and do it properly. I'm excited to write some essays next year."
Diversity was another topic that was discussed and explored during "A Taste of College's" workshops.
"We also were able to increase our exposure to diversity through two presentations and visits to the cultural centers on campus," Moore said. "We do activities early on to encourage students to work together and be accepting of other students."
This year, "A Taste of College" hosted two groups of students that were sponsored to attend the program. As a way to give low-income students an opportunity to prepare for success in higher education, "A Taste of College" 2007 received a GEAR UP grant, a federal program run by the state. The grant helped send 12 students from GEAR UP-designated high schools throughout the state to Corvallis.
Priya Patel, a junior from Madras, Ore. who was sponsored by GEAR UP, knew her experience at OSU would help as she started to compare colleges and make campus visits.
"I wanted to get the college experience for a little while before I start considering schools," she said. "OSU is one that I'm considering."
In addition, six of the seven students that came from Hawaii were supported by Hawaii Community College. They are part of the Construction Academy for high school students and were selected by the program to attend OSU's college prep program. The Assistant Dean of Instruction from HCC learned about "A Taste of College" during a visit to OSU and knew it would benefit the students.
Mark Anthony Damaso, a recent high school graduate from Kailua-Kona, Hawaii, was one of the students who had come with classmates from the construction technology program. He was relieved after participating in a time-management course.
"I've learned what it is like to live the college life," Damaso said. "Especially how to manage stress and balance free time with studying."
After the two-week session, Moore looks ahead to helping a new cohort of teens prepare themselves for the demands and satisfaction of college life.
"Students learn skills needed to succeed in college, and they gain a strong sense of confidence in their ability to be successful college students," he said. "I also hope to find additional funding sources to support students with limited income."
For more information and this year's student blog, visit the P-12 Outreach website or contact Dave Moore at 800-667-1465, dave.moore@oregonstate.edu.

Features and Navigation
Media inquiries
If your publication would like to feature an OSU Ecampus online program, student or instructor, please contact Tyler Hansen.
For journalists
Gather quick facts about OSU Ecampus, our history and students on our webpage for members of the media.
Award-winning electronic newsletter
Where Ecampus is making the news
Staff, student and course honors
Ranked top 10 in the nation
OSU Ecampus earned a top 10 ranking for the ninth year in a row on a list of America's best online bachelor's programs. Learn more »