Oregon State University Ecampus • Degrees Online
Ecampus fact
Online honors degree
Earn an honors baccalaureate degree alongside any undergraduate degree program.
Ecampus MAT Immersion Program
(This program is no longer available online through OSU Ecampus. Browse current education programs.)
OSU's Portland MAT program trains future teachers in diversity through community involvement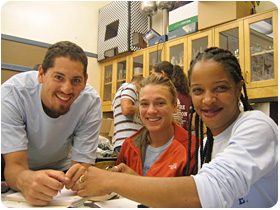 July 2007
This fall, students who enter the Portland-based Oregon State University Master of Arts in Teaching immersion track will not only complete required coursework for the master's degree, but will enhance their teaching effectiveness by learning the importance of understanding a student's community.
Administered by the OSU College of Education and Extended Campus, the Early Childhood/Elementary Education program that previously met formally in local classrooms will hold classes at The Talking Drum Bookstore and Reflections Coffee House in Northeast Portland in order to increase cultural awareness and provide local resources for tomorrow's teachers.
According to Jean Moule, the program coordinator and an associate professor in the College of Education, the immersion program is an intense one-year preparation for licensure, based in culturally and linguistically diverse schools. Students who enter the program with a bachelor's degree are placed in either a bilingual school in Salem or an inner-city school in Portland. Most of the classes are held on-site in either Portland or Salem and students are encouraged to live near their host school. Students are also able to simultaneously earn their ESOL/bilingual endorsement through this OSU program.
Moule believes that a better understanding of a community will help the MAT immersion participants manage students and conduct their reactions appropriately.
"Pre-service teachers in the immersion program will learn to handle cultural differences in the classroom with care, and they'll also be more aware of the world their ethnically and linguistically diverse young students will be facing," Moule said.
Gloria McMurtry, the proprietor of The Talking Drum, adds that because the bookstore is in a neighborhood where at least six schools surround it, her business attracts many educators, including those that participate in Moule's immersion program. McMurtry said she agrees with Moule that classes at the bookstore give the MAT students a tie to the neighborhood.
In the same way, McMurtry said Moule's presence at the bookstore gives patrons and members of the community a look at OSU's MAT immersion program and the individuals working and learning in local schools.
"It's exposure," McMurtry said. "Even if people aren't participating they find out what's going on. [Moule is] just being visible and being there to answer questions about the program."
Eric Marsh, who participated in Moule's program during the 2005-06 year, is now a fourth-grade teacher in Canby, Ore. Through his participation in the immersion program, he feels he was prepared to begin his career as a teacher.
"I developed a capacity where I could understand where people were coming from based on culture," Marsh said. "Culture is pretty invisible and you have the opportunity to view your culture compared to others to see what you take for granted. I felt like my understanding was heightened."
He acknowledges the importance of getting involved in a location where the community gathers.
"It is pretty refreshing living the content that you are studying," Marsh said. "I think it's really valuable."
For more information about the one-year MAT immersion program or other undergraduate and graduate programs offered from a distance and online, contact OSU Extended Campus at 800-667-1465 or visit ecampus.oregonstate.edu.

Features and Navigation
Media inquiries
If your publication would like to feature an OSU Ecampus online program, student or instructor, please contact Tyler Hansen.
For journalists
Gather quick facts about OSU Ecampus, our history and students on our webpage for members of the media.
Award-winning electronic newsletter
Where Ecampus is making the news
Staff, student and course honors
Ranked top 10 in the nation
OSU Ecampus earned a top 10 ranking for the ninth year in a row on a list of America's best online bachelor's programs. Learn more »