Oregon State University Ecampus • Degrees Online
Ecampus fact
Built for online
Choose from nearly 2,000 courses — all of them intentionally designed for online delivery.
Beyond Borders
OSU Spreading Natural Resources Nationwide Through Online Consortium
February 2008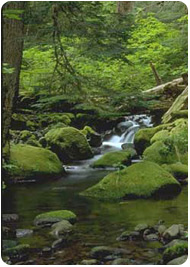 Oregon State University has been accepted into the Natural Resources Distance Learning Consortium allowing the university to expand the reach of its course offerings through this online learning portal.
According to the NRDLC website, the consortium's goal is to provide quality natural resources education to online learners who may not always have access to campus-based courses and programs. The consortium was originally created by Virginia Tech and the U.S. Forest Service and now includes many Land Grant and MacIntire-Stennis-designated universities, as well as the Bureau of Land Management.
Through this addition, students from the consortium's other participating universities and federal agency members have access to OSU's online graduate natural resources courses, specifically the Sustainable Natural Resources Graduate Certificate Online. The SNR certificate, facilitated through a partnership through OSU Extended Campus (Ecampus), is a series of online courses geared toward company, industry or agency employees who desire more training in assessing and solving complex sustainability problems.
"OSU's admittance to NRDLC allows us to market our courses to a larger audience of federal agency natural resource managers," said OSU College of Forestry Associate Dean Jim Johnson. "In many cases, students use these courses to satisfy their degree or certificate programs at the member institutions."
Johnson explains that inclusion into NRDLC is a win-win situation for OSU, as students are now able to tap into many assets of the nation's leaders in natural resources.
"OSU students will have the opportunity to access online courses from other consortium members including top institutions like North Carolina State University, Virginia Tech and Penn State University," Johnson said.
The collaboration with the NRDLC includes the OSU College of Forestry, College of Agricultural Sciences, College of Science and OSU Ecampus.
For more information, visit our Ecampus Sustainable Natural Resources Graduate Certificate page, as well as the NRDLC website.  Back to In the News or the Ecampus Homepage.

Features and Navigation
Media inquiries
If your publication would like to feature an OSU Ecampus online program, student or instructor, please contact Tyler Hansen.
For journalists
Gather quick facts about OSU Ecampus, our history and students on our webpage for members of the media.
Award-winning electronic newsletter
Where Ecampus is making the news
Staff, student and course honors
Ranked top 10 in the nation
OSU Ecampus earned a top 10 ranking for the ninth year in a row on a list of America's best online bachelor's programs. Learn more »