Oregon State University Ecampus • Degrees Online
Ecampus fact
Unmatched student support
Learn how you'll be supported by Ecampus from application through to graduation.
Hybrid Learning
New Online/On-Site Counseling Doctorate Perfect Combo for Working Professionals
March 2008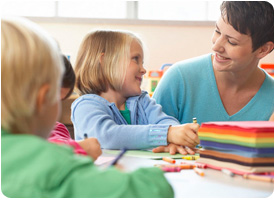 Starting this summer, counseling professionals will find a perfect fit for continued education with Oregon State University's new hybrid Ph.D. in Counseling program that seamlessly combines online and on-site instruction for an ideal learning situation for today's busy student.
Administered by the OSU College of Education and Extended Campus, the hybrid Ph.D. in Counseling is one of the few programs approved by The Council for Accreditation of Counseling and Related Educational Programs on the West Coast, bringing a much-needed presence to the region.
According to Cass Dykeman, associate professor and lead of the College of Education Counseling Academic Unit, the cohort will meet face-to-face in sessions twice each quarter in a Friday through Saturday block in Wilsonville, Ore. In between sessions, students will engage in discussion online while incorporating knowledge that students can immediately implement in their daily work practices or educational setting. Because the face-to-face course location is in the Portland Metro area, it is easily accessible from Portland International Airport and surrounding regions, making it possible for out-of-state students to participate.
"With the OSU Ecampus Ph.D. in Counseling, doctoral study becomes a reality for the first time for professional school and mental health counselors in Alaska, California, Hawaii, Oregon and Washington," Dykeman said.
Counseling Assistant Professor Deborah Rubel will lead the first hybrid cohort on the three-year path to their doctoral degree. She looks forward to providing access to those who would normally forego a counseling Ph.D.
"I observed increasing numbers of fully-employed professionals wanting to complete a Ph.D. in Counseling," Rubel said. "Many of these students did enroll part-time or would attempt to go full-time on campus in Corvallis, but these paths were often very difficult. The hybrid model meets both of the needs of the counseling profession-it adds flexibility for students who are working in the field and it allows substantial face-to-face time for students to experience life-changing interaction."
For more information, visit our hybrid Ph.D. in Counseling page.  For other undergraduate and graduate programs offered from a distance and online, visit our Degrees and Programs page.
Back to In The News.

Features and Navigation
Media inquiries
If your publication would like to feature an OSU Ecampus online program, student or instructor, please contact Tyler Hansen.
For journalists
Gather quick facts about OSU Ecampus, our history and students on our webpage for members of the media.
Award-winning electronic newsletter
Where Ecampus is making the news
Staff, student and course honors
Ranked top 10 in the nation
OSU Ecampus earned a top 10 ranking for the ninth year in a row on a list of America's best online bachelor's programs. Learn more »