Oregon State University Ecampus • Degrees Online
Ecampus fact
100+ degree programs
Explore all of Oregon State's high-quality online degrees, programs and microcredentials.
Workforce & Noncredit
OSU Ecampus Launches Online Course to Combat Phytophthora Plant Disease in Nurseries
April 2008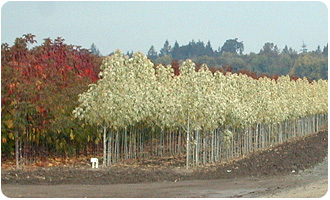 Oregon State University Extended Campus (Ecampus), in partnership with the Oregon Department of Agriculture, has launched a new online course that provides training to nursery growers about the harmful plant pathogen Phytophthora, the leading cause of nursery plant disease in Oregon and nationwide.
The Ecampus Phytophthora Online Course: Training for Nursery Growers guarantees access to all levels of nursery personnel and the public worldwide. This free, non-credit course includes three modules: biology, symptoms and diagnosis; disease management; and Phytophthora ramorum, the quarantine pathogen that causes Sudden Oak Death in forest trees as well as ramorum blight on nursery plants. For an optional $100 fee, nursery growers can earn a Certificate of Mastery after successfully completing an online exam. A Spanish version of the online course will be launched as well.
According to ODA Nursery & Christmas Tree Program Manager Gary McAninch, numerous species of Phytophthora, including Phytophthora ramorum, have appeared in Oregon nurseries, causing nursery staff to comply with strict federal regulations that include costly nursery inspections, lab fees, crop destruction and quarantines. Because other states are wary to purchase plants from infested states, Phytophthora ramorum outbreaks not only cause economic catastrophe for individual nurseries, but tarnish Oregon's reputation for producing high-quality nursery stock. Nursery crops continue to be Oregon's leading agricultural commodity, with annual sales of over $1 billion.
"The ODA needed an effective and convenient education program that would help nurseries realize the impact of the various species of Phytophthora," McAninch said. "The ODA received a grant from the U.S. Department of Agriculture's Natural Resource Conservation Service to put such a program in place. The ODA used a portion of this grant to fund the development of the online course at OSU."
Jennifer Parke, an author of the course and OSU associate professor in both Crop and Soil Science and Botany and Plant Pathology, recognizes the importance of providing the training for Phytophthora online. Her team considered on-site workshops before deciding that the Internet was the best way to deliver the information.
"It is difficult for nursery workers to devote time to an all-day workshop, especially during the busy shipping season," Parke said. "This way, they can take the course at their convenience. We also thought that providing the information online would allow nursery growers to come back to the course again and again as a useful resource."
Executive Director of the Oregon Association of Nurseries John Aguirre said the course will provide essential knowledge for nursery staff to identify symptoms and protect themselves from Phytophthora outbreaks.
"OSU's Phytophthora online course is an outstanding training tool and reference source for the nursery professional who wants to understand, prevent and control Phytophthora in the nursery setting," Aguirre said. "Undoubtedly, nursery growers committed to producing quality plants will want to utilize OSU's Phytophthora online course and certification program."
Parke predicts the online Phytophthora training course will make an impact on the current threat.
"I think it will be the key to preventing disease," Parke said. "The course is based on early detection and changing the cultural practices in nurseries to reduce infection, so this should really make a difference."
Access info about the Ecampus Phytophthora Online Course: Training for Nursery Growers. View more Ecampus programs in Workforce and Noncredit. Get more information about other Ecampus Online Degrees and Programs here.
Back to In the News or the Ecampus Homepage.

Features and Navigation
Media inquiries
If your publication would like to feature an OSU Ecampus online program, student or instructor, please contact Tyler Hansen.
For journalists
Gather quick facts about OSU Ecampus, our history and students on our webpage for members of the media.
Award-winning electronic newsletter
Where Ecampus is making the news
Staff, student and course honors
Ranked top 10 in the nation
OSU Ecampus earned a top 10 ranking for the ninth year in a row on a list of America's best online bachelor's programs. Learn more »