Oregon State University Ecampus • Degrees Online
Disparities and Discrimination through an Economic Lens – Online Microcredential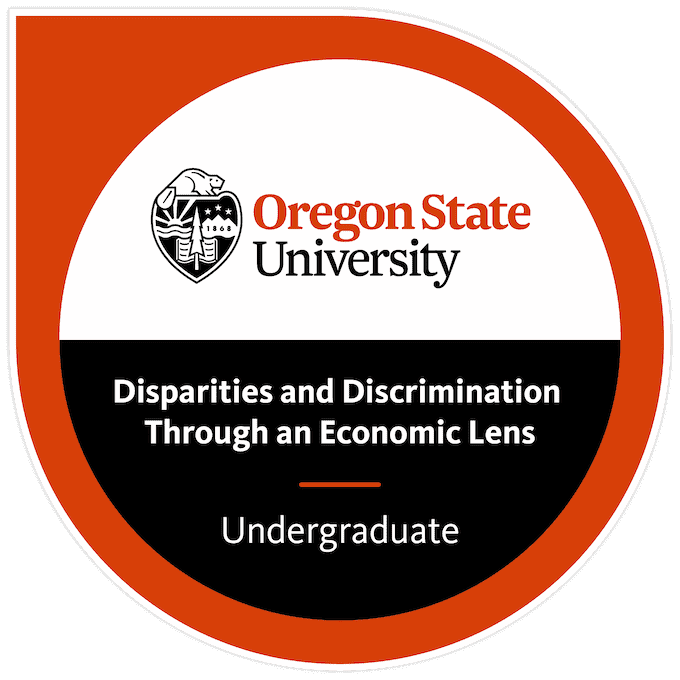 Be a force for good and reduce economic disparities
Social and economic inequality are increasingly prominent features of our lives. Professionals with an economic skill set bring a distinct collection of tools to measure, analyze and create policy on these disparities.
By earning a microcredential in disparities and discrimination through an economic lens online from Oregon State University, you'll take part in the economic analysis of disparities with a focus on statistical discrimination, sources of disparities in employment and wages, the roles education and immigration play in shaping the labor market, and policies to remedy economic inequality.
Coursework
Required courses (12 credits)
Skills
The in-demand skills you'll develop as a student in this microcredential will give you what you need to stand out and level up your career.
Human capital analysis
Public policy analysis
Labor relations analysis
Managerial decision-making
Economic analysis of discrimination
Measurement of inequality
Start working toward an economics degree
Once you earn a microcredential in disparities and discrimination through an economic lens, you can apply the 12 credits you earn directly toward Oregon State's online bachelor's degree in economics.
If you plan to apply these credits toward a full degree, we encourage you to first contact the program to learn about the degree requirements. Please note that acceptance into a microcredential does not guarantee acceptance into a degree program.
How to apply
When applying to this microcredential, you should apply as a nondegree (visiting) student. Check out the resources available to you as a nondegree student while pursuing this microcredential online.
Benefits of learning online with Oregon State
All classes are developed by OSU's world-class faculty, who are renowned for their research, expertise and innovation.
Oregon State is institutionally accredited by the Northwest Commission on Colleges and Universities.
Oregon State Ecampus is consistently ranked among the nation's 10 best providers of online education according to U.S. News & World Report.

Want more info?
Let us know and we'll send you the details you need.
Important dates
Spring term starts
April 3
Summer term starts
June 26
See our academic calendar for our full quarter term schedule.
Find application deadline
Ready to apply?
Once you've gathered the information you need to know before you apply to Oregon State University, take the next steps.
---