Oregon State University Ecampus • Degrees Online
Intermediate Spanish – Online Microcredential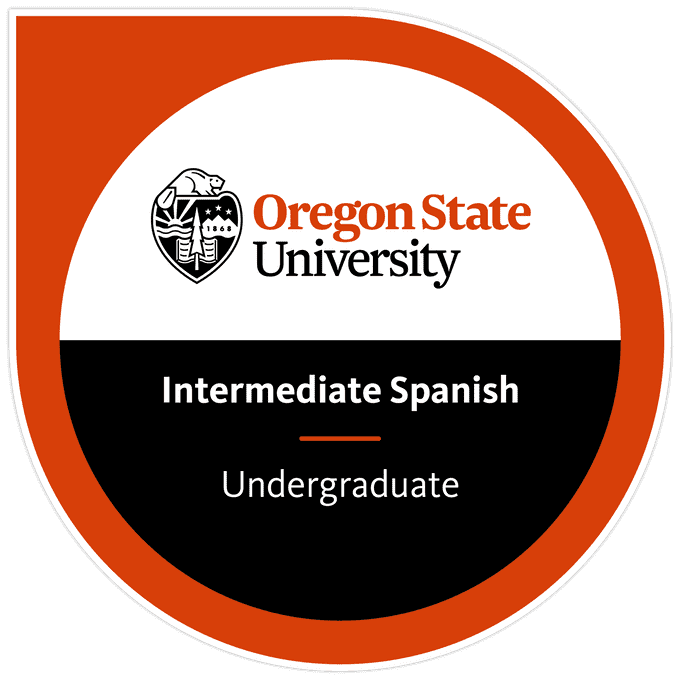 Level up your Spanish skills with a focus on writing, speaking and expression, and learn how to leverage comprehension strategies that will help you further your ability to communicate in Spanish.
And to make that happen, earn a microcredential in intermediate Spanish online from Oregon State University. Doing so will equip you with the competency to engage in conversations in Spanish with increased confidence and help you understand and interpret spoken and written Spanish in a variety of topics.
Coursework
Required courses (12 credits)
Skills
The in-demand skills you'll develop as a student in this microcredential will give you what you need to stand out and level up in your career.
Active listening
Collaboration
Communications
Cultural literacy
Digital literacy
Presentations
Teamwork
Writing
Start working your way toward a Spanish degree
Earning the intermediate Spanish microcredential will enable you apply the 12 credits directly toward Oregon State's online bachelor's degree in Spanish. Learn more about the engaging bachelor's program.
If you plan to apply these credits toward a full degree, we encourage you to first contact the program to learn about the degree requirements. Please note that acceptance into the microcredential does not guarantee acceptance into a degree program.
Explore more Spanish course sequences
Oregon State offers a variety of course sequences in Spanish online that can help you fulfill language course prerequisites at OSU or another institution. These additional courses feature high levels of engagement and interactivity with OSU faculty and fellow students, so you can boost your language proficiency.

Want more info?
Let us know and we'll send you the details you need.
Important dates
Spring term starts
April 3
Summer term starts
June 26
See our academic calendar for our full quarter term schedule.
Find application deadline
Ready to apply?
Once you've gathered the information you need to know before you apply to Oregon State University, take the next steps.
---