Oregon State University Ecampus • Degrees Online
Organizational Leadership – Online Microcredential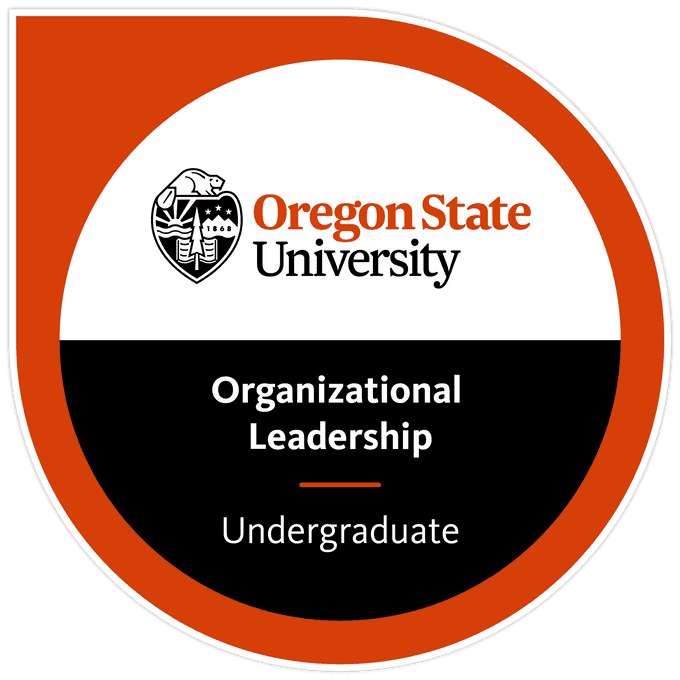 Develop leadership skills to impact change across organizations
Leadership is the ability to inspire other people to reach higher levels of performance, and by earning a microcredential in organizational leadership online from Oregon State University, you'll develop the skills that businesses need most so you can help motivate people and teams to achieve greater success.
This 12-credit microcredential, offered online by Oregon State's renowned College of Business, will equip you with the competency to understand employee thoughts, emotions and behaviors; explore effective leadership styles that best fit your personality and preferences; and develop leadership in the capacity of mentoring and cross-culture communication.
Coursework
Required courses (12 credits)
Skills
The in-demand skills you'll develop as a student in this microcredential will give you what you need to stand out and level up in your career.
Communications
Decision making
Economics
Human resources management
Influencing
Interpersonal communication
Leadership
Planning
Start working toward a full business degree
Earning a microcredential in organizational leadership will enable you to apply the 12 credits directly toward Oregon State's online organizational leadership undergraduate certificate and bachelor's degree in management. Learn more about OSU's many business programs delivered online.
If you plan to apply these credits toward a full degree, we encourage you to first contact the program to learn about the degree requirements. Please note that acceptance into a microcredential does not guarantee acceptance into a degree program.

Want more info?
Let us know and we'll send you the details you need.
Important dates
Fall term starts
Sept. 27
Winter term starts
Jan. 8, 2024
See our academic calendar for our full quarter term schedule.
Find application deadline
Ready to apply?
Once you've gathered the information you need to know before you apply to Oregon State University, take the next steps.
---