Oregon State University Ecampus • Degrees Online
Public Policy Leadership – Online Graduate Microcredential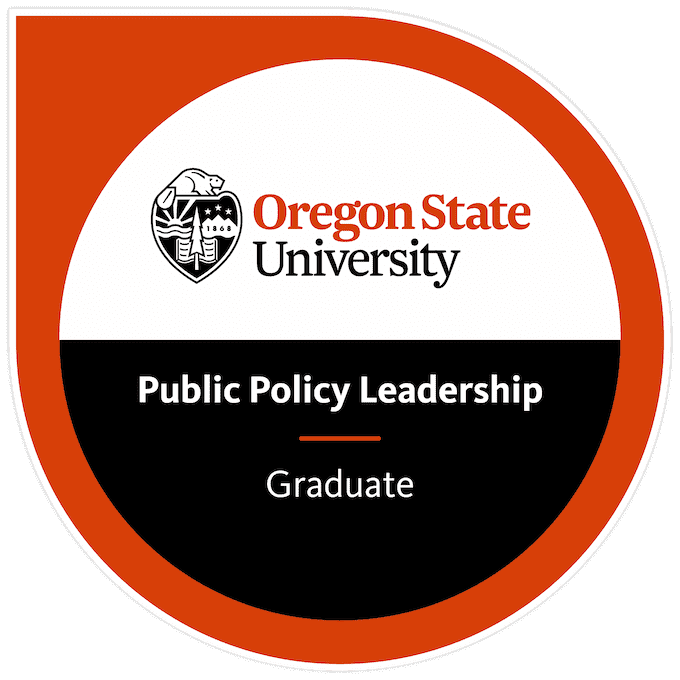 Become a policy leader in today's evolving public landscape
Our world is shaped by the policies that govern us. Whether you're interested in the environment, housing, energy or another sector entirely, creating meaningful change takes strong leadership skills and a deep understanding of the theories and frameworks that shape policy.
When you complete a graduate-level microcredential in public policy leadership online from Oregon State University, you'll gain a historical overview of the theories that shape public organizations, including various influential models of bureaucracy. You'll learn how to effectively identify key issues, analyze their effects from various angles and be able to apply an equity lens to your work.
Additionally, you'll develop your own authentic leadership style and be better prepared to lead change in the public sector.
Coursework
Required Courses (9 credits)
Skills
The in-demand skills you'll develop as a student in this public policy leadership microcredential will give you what you need to stand out and level up in your career.
Policy analysis and evaluation
Policy implementation
Leadership
Before you apply
Please contact Professor Brent Steel (bsteel@oregonstate.edu) to learn more about the microcredential requirements and enrollment process.
Start working toward a public policy master's degree
Once you complete a microcredential in public policy leadership, you can apply the 9 credits you earn directly toward Oregon State's online Master of Public Policy or Executive Master of Public Policy.
If you plan to apply these credits toward a full degree, we encourage you to first contact the program to learn about the degree requirements. Please note that acceptance into a microcredential does not guarantee acceptance into a degree program.

Want more info?
Let us know and we'll send you the details you need.
Important dates
Winter term starts
Jan. 8, 2024
Spring term starts
April 1, 2024
See our academic calendar for our full quarter term schedule.
Find application deadline
Ready to apply?
Once you've gathered the information you need to know before you apply to Oregon State University, take the next steps.
---