Oregon State University Ecampus • Degrees Online
Sports Business – Online Microcredential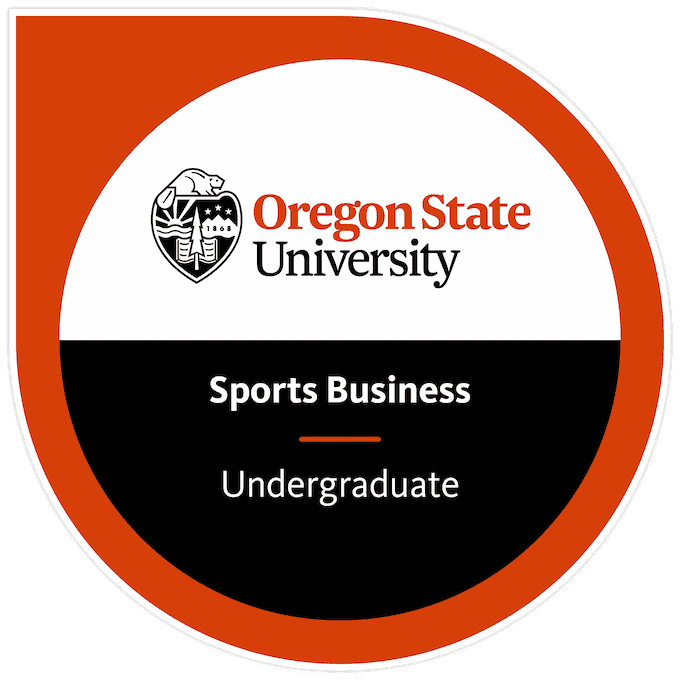 Take a lead role in the world of sports business
Sports are more than just a game. The global sports business industry is a rapidly evolving area of work. And this booming field needs professionals who can manage growth opportunities and cultivate innovative, data-driven strategies to advance the industry.
Through a series of five courses, you can earn a microcredential in sports business online from Oregon State University's renowned College of Business. Gain the skills to develop marketing strategies in sport, critically evaluate strategic implications of sponsorship, interpret financial practices, and apply analytical skills to improve sports business decision-making.
Coursework
Required courses (10 credits)
*Course will be delivered as early as Winter 2023
Skills
The in-demand skills you'll develop as a student in this microcredential will give you what you need to stand out and level up in your career.
Communications
Data analysis
Decision making
Finance
Marketing
Merchandising
Sales
Sports marketing
Start working toward a business degree
Not only will earning a microcredential in sports business give you skills that set you apart in the job market, but it will also put you on a pathway toward earning a business degree online. You can apply the 10 microcredential credits directly toward a variety of Oregon State's online bachelor's degrees in business.
If you plan to apply these credits toward a full degree, we encourage you to first contact the program to learn about the degree requirements. Please note that acceptance into a microcredential does not guarantee acceptance into a degree program.

Want more info?
Let us know and we'll send you the details you need.
Important dates
Winter term starts
Jan. 8, 2024
Spring term starts
April 1, 2024
See our academic calendar for our full quarter term schedule.
Find application deadline
Ready to apply?
Once you've gathered the information you need to know before you apply to Oregon State University, take the next steps.
---