Oregon State University Ecampus • OSU Degrees Online
---
Credits required
45
Oregon State University is on a quarter-term system. There are four quarters each year and classes are 11 weeks long. This program's 45 quarter credits are equal to 30 semester credits.
Delivery
Online
You can complete all courses online. Some courses may require proctored exams in your local area.
Overview
Advance your career in the field of radiation protection through OSU's online master's program in radiation health physics. The current program offers both a research-based Master of Science degree and a professional Master of Health Physics degree, which does not require a thesis. Employment within this field continues to grow and opportunities include federal, state and local environmental protection agencies, medical care facilities, nuclear reactor sites, national laboratories and private consulting.
Learning coast to coast
Navy Lieutenant Colby Mangini earned his Master of Health Physics degree from Oregon State Ecampus while serving as a nuclear power instructor in Charleston, South Carolina. It was an experience he still raves about.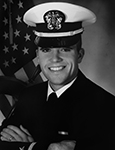 A trip to the OSU campus in Corvallis spurred him to enroll in the university's Ph.D. health physics program soon thereafter.
Learn from a top-ranked school
U.S. News and World Report ranks Oregon State University among the top 12 nuclear engineering schools in the nation. Oregon State University, a Carnegie Doctoral/Research-Extensive University, has long played a leading role in education and research in nuclear areas. The Oregon State Radiation Center houses a 1.1 Megawatt TRIGA Mark II research reactor as well as teaching research laboratories in radiation safety, nuclear chemistry and nuclear engineering. There is no other university facility of its combined capabilities in the western half of the United States.
Benefits of an Oregon State University online degree in radiation health physics:
All classes are developed by OSU's renowned faculty, who are known worldwide for their research, expertise and innovation in natural resources and science fields.
OSU is regionally accredited by the Northwest Commission on Colleges and Universities.
OSU's online engineering master's program has been independently reviewed and ranked by GetEducated.com as a top "Best Buy" for engineering professionals seeking a high quality, low-cost online degree.
Online students receive the same rigorous curriculum and diploma as on-campus students.
Students can complete their courses from anywhere in the world with an internet connection.

Important dates
Winter term starts
Jan. 8, 2018
Spring term starts
April 2, 2018
See our academic calendar for our full quarter term schedule.
Degree details
* cost per credit and total cost are calculated using tuition per credit for the current academic year. It does not include associated fees, course materials, textbook expenses, and other expenses related to courses.
† You can complete all courses online. Some courses may require proctored exams in your local area.
Find application deadline
Ready to apply?
Once you've gathered the information you need to know before you apply to Oregon State University, take the next steps.