Oregon State University Ecampus • OSU Degrees Online
---
Explore Ecampus
Compare bachelor's degrees
Oregon State Ecampus delivers 25+ undergraduate degrees online.

OSUware 2007 Now Available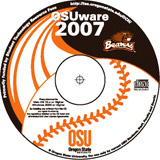 OSUware is a CD that's free to OSU students and staff, containing numerous applications that will help you in many ways. The applications include Internet browsers, email programs, antivirus software, blogging software, and other miscellaneous utilities for both Windows and Macintosh.
OSU Extended Campus recently mailed out OSUware 2007 CDs to all non-local students registered for fall term classes. If you're on the Corvallis campus, you can pick up an OSUware CD at several locations, including the circulation desk on the main floor of the Valley Library. For more information about OSUWare, visit: http://tss.oregonstate.edu/OCH/osuware/
Want to create PDF files without an Adobe license?
One of the free applications included in OSUware is PDFCreator, which can generate PDF files from a variety of Windows programs including those in the Microsoft Office suite. OSU Technology Support Services recommends this program as an alternative to Adobe Acrobat Pro because it is simple, easy to use, and does not require a license. For more information, visit: http://tss.oregonstate.edu/cn/soft_tips/docs/pdf/?page=pdfcreator
For a complete list of Windows and Macintosh software contained on the OSUWare CD, visit: http://tss.oregonstate.edu/OCH/osuware/?page=software

Features and Navigation
Media inquiries
If your publication would like to feature an OSU Ecampus online program, student or instructor, please contact Tyler Hansen.
For journalists
Gather quick facts about OSU Ecampus, our history and students on our webpage for members of the media.
Award-winning electronic newsletter
Where Ecampus is making the news
Staff, student and course honors
Ranked top 10 in the nation
OSU Ecampus earned a top 10 ranking for the fifth year in a row on a list of America's best online bachelor's programs. Learn more »