Oregon State University Ecampus • OSU Degrees Online
---
Ecampus fact
Ranked top 10 in the nation
Ecampus earned a top 10 ranking for the fifth year in a row on a list of America's best online bachelor's programs.

Tech Tips
Microsoft Office 2007 compatibility and easy PDF creation
Saving documents in Microsoft Office 2007
Compiled by Victor Yee 
As an Ecampus student, you submitted your assignment as a MS-Word 2007 document.  However, the next day your instructor emails you back because they can't open your assignment. Their computer can't understand and open the document because they have an older version of MS-Word. They request that you resubmit your assignment as a ".doc" file.
This happens because many new PCs are equipped with the newest version of Microsoft Office, including MS-Word 2007, and save documents in a default format identified by a ".docx" extension.  This is sometimes inconvenient because this ".docx" format is only compatible with other new MS Office 2007 software, that most instructors haven't upgraded to yet.  While it seems a little bit of a hassle, it is easy to make sure you "Save As" your file as a more universal ".doc" file format.
Below is an image that shows how you can save your file as an older Word format with the ".doc" extension in MS-Office 2007.  Make sure you choose the option that is highlighted in the image, titled "Word 97-2003 Document," to be compatible with most instructor's PCs.  You may also choose an RTF file, but this is unnecessary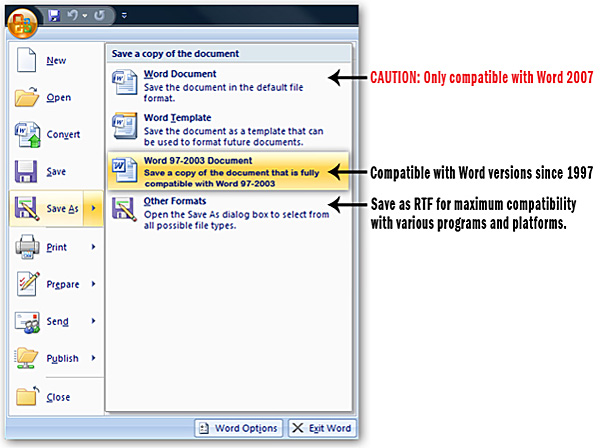 most of the time.
Creating inexpensive PDF files

According to OSU Technology Support Services, PDFCreator is a free utility that allows you to easily creates PDFs from within most Windows applications.  You can view more information about PDFCreator for use as an alternative to Adobe Acrobat Pro because it is simple, easy to use and does not require a license.
Technology Support Services' OSU Help Desk provides additional information to students regarding computer security, software application tips and using the Blackboard portal.
Back to E-News.

Features and Navigation
Media inquiries
If your publication would like to feature an OSU Ecampus online program, student or instructor, please contact Tyler Hansen.
For journalists
Gather quick facts about OSU Ecampus, our history and students on our webpage for members of the media.
Award-winning electronic newsletter
Where Ecampus is making the news
Staff, student and course honors
Ranked top 10 in the nation
OSU Ecampus earned a top 10 ranking for the fifth year in a row on a list of America's best online bachelor's programs. Learn more »