Oregon State University Ecampus • OSU Degrees Online
---
Explore Ecampus
Serving America's military
Maximize your GI Bill benefits while honoring your career, family and other life commitments.

Winning Ecampus Instructor/Advisor Nomination
Submitted by: Jennifer Heine
Nominated Advisors/Instructors
Marge Victor- Instructor, Natural Resources
Maurine Kelly- Librarian, Ecampus
Melanie Jones- Advisor, Health and Human Sciences
Olga Rowe- Instructor, Education
Sheila Cordray- Instructor, Sociology
Sue Helbeck- Advisor, Ed.M
Marta Kunecka- Instructor, Politcal Science
Thank you to all who took the time to nominate your favorite Ecampus Instructor or Advisor!
I would LOVE the opportunity to nominate Dr. Sheila Cordray, as an outstanding sociology professor as part of the OSU Ecampus. Dr. Cordray is highly involved in the learning process of her students, and when you receive an "A" in her class, it is because she has mentored your progress, and every point was earned! You work your butt off, but the sense of pride in receiving an "A" in her class ONLY comes from going through one of her classes.

Sociological concepts, as different from more concrete concepts, take time to understand, and sometimes the only way to grasp the topic and associations are with the extra help that Sheila always extends, through countless examples, questions and emails.

Although online education is relatively common in today's society, finding that connection with someone whom you've never physically met is difficult - and yet her students know that she is interested in students achieving the educational outcomes. Additionally, she brings the concepts into focus so we understand their importance in our lives, making us aware of the greater part of history in which we all live.

After receiving my BS in Liberal Arts with a minor in Sociology this Spring Term, I will always remember her lessons and how she integrated discussion group learning within the group so we collectively learned from her and built upon each other. I plan on continuing my education, and her efforts in recommending me for graduate school are sincerely appreciated. Her "stamp of approval" means more than many educators combined, and I hope to continue that learning process, as well as in my career.

Thank you to Dr. Sheila Cordray for your years of outstanding service and teaching!
Honorable Mentions
Submitted by: Carmen Beck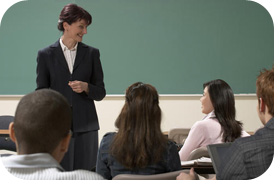 I'd like to nominate Sue Helback from Teacher and Counselor Education as an influential instructor and advisor.
Sue has been instrumental in advising me through my Ed.M program as an international student. Taking an online program already has the potential to distance a student from their learning experience. Living in Canada, this distance is even more significant as I can't visit the campus or even drive past it. Sue has ensured, through her encouraging emails and timely responses to questions and concerns, that I have a real connection to my program. She has assisted me with planning my courses so that I can meet my academic goals while teaching full-time and preparing for my first baby, all from a distance but with a sincere human touch.
As a professor, Sue challenged me to think critically through educational issues and maintain a high degree of professionalism and academic integrity. She sets high standards for her students while offering unparalleled support.
Please accept this nomination for Sue Helback; she is absolutely influential in my success!
Submitted by: Tom Kukitz
I would like to nominate my advisor, Marge Victor. What can I say about Marge Victor. Marge has been there for me right from the start. She does her best to understand who I am and what I want; then she offers me options to guide me in the proper direction. She pulls no punches; she tells it the way it is. She offers encouragement in the face of adversity and hope in the face of doubt. It's never fourth down with Marge.
I went to four other online colleges before I found OSU (and Marge) and they all failed to offer me the guidance and encouragement I needed to succeed. Marge is not just an advisor, she is my friend and a bit of a mentor too. Marge makes me proud to be a Beaver and now I bleed orange!
With two terms left to go I am so proud to be a Beaver I want to stay on and do my post graduate work. I am as excited today as I was the day I took my first class in January '09 and Marge has always been there for me, when I was so confused. She deserves this award for outstanding and undying commitment to students. The school should have more Marge Victors, so all students could experience what I have experienced. Thank you for giving me the chance to give her the praise she deserves, win or not win, she is the best!
Back to E-News.

Features and Navigation
Media inquiries
If your publication would like to feature an OSU Ecampus online program, student or instructor, please contact Tyler Hansen.
For journalists
Gather quick facts about OSU Ecampus, our history and students on our webpage for members of the media.
Award-winning electronic newsletter
Where Ecampus is making the news
Staff, student and course honors
Ranked top 10 in the nation
OSU Ecampus earned a top 10 ranking for the fifth year in a row on a list of America's best online bachelor's programs. Learn more »