Oregon State University Ecampus • OSU Degrees Online
---
Explore Ecampus
Take a test drive
Preview online learning at Oregon State with our course demo.

Published by: OSU Extended Campus
Oregon State University, Corvallis, Oregon; Vol. 13, #2
Spring Edition - March 23, 2011
ecampus.oregonstate.edu
800-667-1465
---
Announcements and Calendar
Congrats on a great winter term! Check out this edition of E-News for upcoming spring term deadlines, information about new online degree programs, getting ready for summer term, and the story of how one Ecampus student plans on using his Fisheries Management graduate certificate.
View the Spring 2011 Academic Calendar for details about deadlines, events and university holidays. Dates to note include:
March 21: Open registration began
March 28: First day of spring term classes
April 3: Last day to add a class by Web without departmental approval
April 8: Last day to drop a class by Web; last day to register or add a class by Web with department approval
April 10: Summer Session registration begins
June 6-10: Finals Week
You still have time to register for spring 2011 Ecampus online courses.
View the Ecampus Schedule of Classes online.
---
Earn a graduate certificate from a tree house. Really? Really.
The Department of Fisheries and Wildlife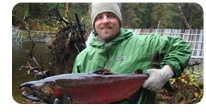 offer an online graduate certificate in Fisheries Management in partnership with Ecampus.
This multidisciplinary 18-credit graduate certificate program identifies effective solutions to complex fisheries management challenges at both local and international levels. It is also the nation's first fisheries management certificate to be offered online.
Find out how one Ecampus students earned a graduate certificate in Fisheries Management while working on a semi-remote field camp in Alaska.
Read Tommy Sheridan's story...
---
I love Matlock
Have you seen every season of "Law & Order?" Is your bookcase stacked with John Grisham novels?

Do you religiously watch any Supreme Court nomination news coverage? Chances are you really dig the legal profession. Fulfill your dream of becoming a lawyer by taking a set of online courses this summer designed to prep you for law school. The four courses are provided in partnership with the departments of Political Science, Philosophy and English and offered online through OSU Ecampus.
The Pre-law Online Series helps you determine if the law field is an appropriate career path for you, what skills you need to excel in the admissions process for law school, and how you can improve your writing skills. In addition, you will receive individual pre-law advising and learn to navigate the legal system before attending law school.
Learn more about the Pre-Law Online Series...
---
Discover the Advantages of Learning a Foreign Language Online.
The Foreign Languages and Literatures Department along with Ecampus invite you to discover the

flexibility of completing one of nearly 50 courses in seven different languages online. All language and literature courses offered through Ecampus are based on a tradition of dedicated teaching and personal contact between student and instructor, and provide true multimedia instruction coupled with realistic learning objectives.
In today's world, knowing other languages is often a necessity for success. Developing language competence will prepare you for careers in internationally-related fields. Courses in the following languages are available online:
To find out when courses are offered and to view the syllabus for each course, please visit the Schedule of Classes.
---
Ecampus students are now eligible for OSU RecSports Memberships.
Online and distance students taking courses through Ecampus may access OSU Recreational Sports facilities, like Dixon Recreation Center or the new Tennis Pavilion. RecSports established a new, special membership for Ecampus students and their affiliates. The membership costs $79 per term or $40 per half-term.
Through RecSports, students are able to rent outdoor fitness gear, attend daily workout classes, enjoy the indoor swimming facilities, and much more!
---
Graduating in 2011? Join us in Corvallis on June 11th.
This year's commencement ceremony will be held on June 11th at 10:30 a.m. on the main Oregon State University Campus is Corvallis, Oregon. Last year, nearly 40 Ecampus graduates and over 100 family members from across the U.S. made the trip to campus to walk across the stage and accept their diploma!
If you completed your OSU degree through an Ecampus program between summer 2010 and fall 2011 and plan to attend the commencement ceremony on June 11, be sure to apply for our Graduation Travel Award by May 1. Ecampus graduates who live more than 30 miles from the Corvallis campus may be eligible to win a reimbursement to help with travel expenses.

Apply for a travel award online...
---
Look ahead to summer course options
OSU Summer Session provides both online and on-site opportunities for students to complete prerequisites and other required courses for their degree programs. View the Schedule of Classes to choose from more that 1,000 courses. Registration begins April 10th and most classes start June 20th.

Be sure to become a fan of OSU Summer Session on Facebook for access to course information, social events, and chances to win contests and prizes.
---
Ecampus now has 18 minors!
Our new minor in Popular Music is the perfect addition to any of our 11 online undergraduate

degrees. The minor provides students with literacy in several popular music genres of their choice, including rock n' roll, hip hop, film music, reggae, Broadway music, music technology and jazz. Through the study of a diverse range of genres, stylistic practices, performance media, and music as a commercial enterprise, students will develop analytical and critical skills through which to examine musical meaning through the lens of community, music production, and identity.
View minor overview and curriculum info...
---
Get acquainted with accessing the library from a distance.
The Ecampus librarian will be offering a new series of webinars for Ecampus and remote students

and faculty about using the library from a distance.
If you're new to OSU or just new to doing library research from a distance, you'll find the introductory webinar most useful. If you already know about OSU libraries and services but want to get more out of your research time, the Ecampus librarian is offering webinars on database power search, keeping track of your research and more.

The webinars will be hosted using Adobe Connect so you don't need to travel. You can be at home in front of your computer. No software installation is required. You just need headphones or computer speakers.

To learn more and register for a workshop, please go to the Ecampus Library Webinars Spring 2011 website.

Please contact the Ecampus librarian if you have any questions.
---
Text to connect with Ecampus on Facebook.
Connect with Ecampus on Facebook! 'Like' us today and enter the current photo contest (show us

your lab partner) for a chance to win a $100 OSU Bookstore gift card. If you have a registered mobile number in your Facebook settings, text like osuecampus to 32665 to automatically 'Like' the Ecampus page. You can also join by going directly to the Oregon State Ecampus page on Facebook.

After you join, you can stay connected for access to contests, discussions and exclusive information including a chance to win OSU Football tickets to a future sports game.
---
Thanks for reading Ecampus E-News. Want "E-News" in your Inbox? Subscribe to Ecampus E-News today!

Features and Navigation
Media inquiries
If your publication would like to feature an OSU Ecampus online program, student or instructor, please contact Tyler Hansen.
For journalists
Gather quick facts about OSU Ecampus, our history and students on our webpage for members of the media.
Award-winning electronic newsletter
Where Ecampus is making the news
Staff, student and course honors
Ranked top 10 in the nation
OSU Ecampus earned a top 10 ranking for the fifth year in a row on a list of America's best online bachelor's programs. Learn more »