Oregon State University Ecampus • OSU Degrees Online
---
Ecampus fact
Ranked top 10 in the nation
Ecampus earned a top 10 ranking for the fifth year in a row on a list of America's best online bachelor's programs.
Living in a glorified tree house, and a houseboat on a remote Alaskan fjord, Tommy Sheridan is not, by definition, a typical Oregon State University student. By day he dodges bears instead of traffic on campus. By night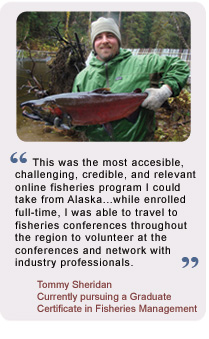 he watches the beautiful Northern Lights instead of a movie at the local Corvallis theater. His "campus" is the outdoors of Alaska.  However, his education is all OSU thanks to the online degrees and programs delivered by OSU Extended Campus (Ecampus).
"The greatest benefit I enjoy from completing my [Fisheries Management] degree online is that I am able to maintain my position in Alaska," says Sheridan. "I supervise a semi-remote field camp on the Copper River; along with two additional remote field camps in Prince William Sound."
Like many students, Sheridan's study space is his bedroom desk. But his job requires him to travel throughout Alaska, so his "study space" extends to hotel rooms, airport terminals and even a remote cabin on the Copper River. The online classroom format was a perfect fit for Sheridan and his career. He currently works as a Fishery Biologist for the Alaska Department of Fish and Game.
"I would not be able to balance this position with a traditional campus-based program. Instead, I have the flexibility required to juggle my educational pursuits with a challenging and rewarding job in a remote Alaskan fishing town."
After he completes the Fisheries Management Graduate Certificate from OSU, Sheridan plans to pursue an online master's degree in fisheries and wildlife administration. He wants to share his knowledge with others.
"Looking further down the line, I would like to share my real world experiences with students and hope to have the opportunity to teach in some capacity in the future. I can't run from bears, haul in seine nets, or cram myself into small airplanes for aerial surveys forever!"
Sheridan is not unique. OSU Ecampus now serves more than 4,200 students all taking online classes. Plus, educational opportunities continue to grow with more than 18 undergraduate and graduate degrees available online through Ecampus. Programs such as graduate certificates in Fisheries Management, Water Conflict Management, Sustainable Natural Resources, Geographic Information Science, and Management for Science Professionals, as well as a new Master of Natural Resources.
Visit the Ecampus website for a complete list of all available degree programs and courses.

Features and Navigation
Media inquiries
If your publication would like to feature an OSU Ecampus online program, student or instructor, please contact Tyler Hansen.
For journalists
Gather quick facts about OSU Ecampus, our history and students on our webpage for members of the media.
Award-winning electronic newsletter
Where Ecampus is making the news
Staff, student and course honors
Ranked top 10 in the nation
OSU Ecampus earned a top 10 ranking for the fifth year in a row on a list of America's best online bachelor's programs. Learn more »