Oregon State University Ecampus • OSU Degrees Online
---
Explore Ecampus
Serving America's military
Maximize your GI Bill benefits while honoring your career, family and other life commitments.
Ecampus E-News Winter 2012

Published by: OSU Extended Campus
Oregon State University, Corvallis, Ore., Vol. 14, #2
Winter edition – Dec. 15, 2011
ecampus.oregonstate.edu
800-667-1465
---
Announcements and reminders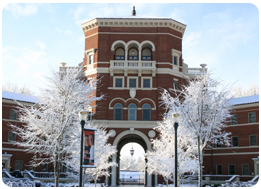 The calendar is about to flip to 2012, and if you're looking for the ideal New Year's resolution, here's a can't-miss plan: Invest in your education.

You still have time to register for winter courses, which start Jan. 9, and you can even add a course or two by visiting the Ecampus schedule of classes.

Check out our getting-started guide to begin things on the right foot. And if you're new to OSU, you need to set up your ONID account to gain access to Blackboard, your official OSU email address, billing information and more.

And don't forget to order your textbooks online today from the OSU Bookstore in order to have all your materials by the time classes start.

Brave the winter weather, and enjoy the last of 2011.
---
Need help? That's why we're here
The Student Services Center is a vital resource that helps countless Ecampus students sort out any issues they have during the term. And the earlier you let us know something's amiss, the better equipped we are to help you.

If, for example, you are having trouble contacting an instructor, contact Joan Oakes ASAP at 800-667-1465 or via email.

Lastly, be sure to keep a record of your emails for documentation purposes.
---
Bidding adieu to one, saying hello to another

Few people have put their stamp on Ecampus in the last six years as thoroughly as Mary Caughey, who has worked with thousands of students on their educational journey.

Caughey is retiring this week after a rewarding and successful stint as the community college coordinator and, most recently, the pre-admissions advisor.

"I'm going to miss working with the students – each has a unique and interesting story," Caughey said.

It was her task to conduct transfer evaluations and help prospective students understand the financial and time commitment necessary to complete their degree online with OSU. Caughey also helped guide students through the admissions process.

"I admire and respect these students, who have the determination and discipline to cram college study into lives that are already complicated – with jobs, families and the challenges of 21st century life," she said. "When one of 'my' students graduates, I can't help but feel that I've contributed to that accomplishment."

Caughey is passing the torch to Urjita Parekh, the new pre-admissions advisor. Parekh comes to Ecampus from Sonoma State University and can be reached at 541-737-3071 or via email.
---
Natural resources academy coming to OSU

Here's a quick list of things Oregon has that no one else in the country does: impeccable summer weather, diverse natural beauty (the ocean, mountains, forests, you name it) and OSU's heralded natural resources program.

The combination of those things helps make this summer's upcoming Natural Resources Leadership Academy at OSU an invaluable event for anyone interested in enhancing leadership skills, gaining knowledge and connecting with others in the field.

The academy, held June 18-22 and 25-29 in Corvallis, is designed for natural resources professionals and graduate students. Pre-registration begins in February, and graduate and continuing education credits are available.

For more in-depth information, watch a short video featuring Lynette de Silva, an OSU faculty member and the academy director.
---
Fish & widlife folks form field's first PSM

OSU's prestigious Department of Fisheries and Wildlife Science has bolstered its reputation by developing a new online graduate-degree program, this one geared toward ambitious members of the working world.

The online Professional Science Master's in Fisheries and Wildlife Administration (PSMFWA) is the first of its kind and is designed for students who want to accelerate their careers in fields related to biology, ecological management, environmental and social policy, natural resource management and fisheries and wildlife. Instruction will be delivered by a group of scientific professionals who provide an academic environment that is scientifically rigorous and relevant to today's natural resource issues.

The PSMFWA program is currently accepting applications for spring term; the deadline to apply is Dec. 31.

Learn more about the online fisheries and wildlife administration program.
---
Become a pro at researching from a distance

A new quarter means a new opportunity to get to know OSU's Valley Library and everything we do for you. Join Ecampus librarian Stefanie Buck for a series of webinars on the library, how to find sources and how to keep track of your research.

In the webinar, you'll learn about the library and doing research from a distance and have opportunity to ask live questions of a real librarian. Check out the schedule and sign up today.

If you have questions about the library or how to access materials, you can always contact me at 541-737-7273 or via email, and we can set up a time to talk. We also have a new OSU Libraries How-to Guide with lots of information, tutorials and tips about doing online research.

For more information on library services, check out the Ecampus library webpage.
---
Proud to serve those who serve us

OSU Ecampus is repeatedly listed among the nation's most military-friendly schools because we provide worldwide access to high-quality education and also because we understand the kind of online degree programs that fit the military lifestyle.

But instead of taking our word for it, watch and listen to Ecampus graduate student and U.S. Navy Lt. Gabriel Burgi briefly talk about the OSU online-learning experience.

Learn more about how Ecampus meets the unique needs of its military students and military spouses and dependents.
---
Be in the heart of the Ecampus community
The best way to stay in touch with Ecampus news and events throughout the school year is by "liking" our Facebook page and following us on Twitter. Our staff and your Ecampus peers can help answer questions you might have, and we often make important announcements that will help guide you along your educational journey.

We'll also let you know about interactive events, fun contests, ticket giveaways and more to help you get the most out of your time as an OSU Ecampus student.
---
Thanks for reading Ecampus E-News. Want E-News in your inbox? Subscribe to Ecampus E-News today!

Features and Navigation
Media inquiries
If your publication would like to feature an OSU Ecampus online program, student or instructor, please contact Tyler Hansen.
For journalists
Gather quick facts about OSU Ecampus, our history and students on our webpage for members of the media.
Award-winning electronic newsletter
Where Ecampus is making the news
Staff, student and course honors
Ranked top 10 in the nation
OSU Ecampus earned a top 10 ranking for the fifth year in a row on a list of America's best online bachelor's programs. Learn more »