Oregon State University Ecampus • OSU Degrees Online
---
Explore Ecampus
Compare bachelor's degrees
Oregon State Ecampus delivers 25+ undergraduate degrees online.


Published by: OSU Extended Campus
Oregon State University, Corvallis, Ore.; Vol. 14, No. 4
Summer edition — April 13, 2012
ecampus.oregonstate.edu
800-667-1465
Want Course Flash in your inbox? Subscribe to OSU E-News today!
---
Important dates and announcements
Registration for summer term opens this Sunday, and now's the time to start planning your summer with OSU Ecampus. This newsletter -- complete with course and program highlights -- contains a ton of resources to help you do just that.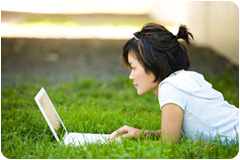 Summer 2012
Registration begins Sunday, April 15
Most classes begin June 25
View the summer term schedule of classes.

Fall 2012
Priority registration begins May 20
Classes begin Sept. 24
View the fall schedule of classes.

Take advantage of the step-by-step registration guide for a seamless process to enroll in summer courses. And the Ecampus getting-started checklist is another way to ensure you are ready to begin the term.

Make sure you order your textbooks early from the OSU Beaver Store to receive them before the term starts.
---
Ecampus rolls out new computer science degree
OSU this week unveiled one of the nation's first online post-baccalaureate degree programs in computer science, creating a short pathway to high-paying career opportunities in virtually any industry for millions of students, professionals and unemployed workers worldwide.



The program, delivered online through Ecampus, provides students with skills in programming fundamentals, software engineering, mobile and web development and more.

Best of all: You can complete the program in as little as one year, and the program launches this summer.

"The need for expertise in computer science has now become so pervasive that these skills can be paired with almost any other type of college degree, and it actually amplifies the value of both of them," said Terri Fiez, head of OSU's School of Electrical Engineering and Computer Science.

Learn more about the Ecampus computer science degree program and register today.
---
In summer, three is the magic number

Summer is great because you can do things that are impossible during other times of the year. That means going for a swim in the pool, and it also means knocking out an entire sequence of classes in a matter of weeks.

The unique Ecampus summer term schedule gives you the ability to tackle a series of courses in subjects such as chemistry and several foreign languages. For example, students in science- and health-related fields can satisfy prerequisites and bacc core requirements by taking three 100-level or three 200-level general chemistry courses.

Course sequences are also available this summer in French, German and Spanish.
.
---
Take a look at history through a fisheye lens
FW 315 – Ichthyology



Bonus points to you if you knew that ichthyology is the branch of zoology that deals with fishes, and if you knew how to pronounce it. (It's ick-theology.)

This three-credit course will delve into a slew of interesting topics, including the anatomical features and evolutionary origins of a variety of fishes, their life histories, how their physiological attributes adapt them to an aquatic environment and how they interact with one another.

FW 315 is offered this summer during Session 2 (June 25-July 20).

View the course description.
---
Explore how identity and culture take shape
SPAN 237 – U.S. Latino/a Identities and Cultures



The impact made by Latinos on American culture (and vice versa) continues to evolve, and this bacc core class will examine the issues -- past and present -- that have helped shape the identities of Latinos and Latinas in the United States.

By paying particular attention to the perspective of the Latino/a communities in Oregon and the Pacific Northwest, you will explore the diverse contributions of Latinos/as to U.S. society and culture, discover the role language plays in understanding Latino/a identity, identify the social justice issues faced by these communities and lots more.

SPAN 237 is offered this summer during Session 4 (July 23-Aug. 17).

View the course description.
---
Natural resources academy coming to OSU
OSU, recognized nationally for its work in natural resources, is extending the expertise of its faculty this summer to graduate students and professionals in the field for a pair of weeklong leadership seminars.



Our first-ever Natural Resources Leadership Academy (NRLA) is scheduled for June 18-22 and June 25-29 on the OSU campus. Here are two quick reasons why you should sign up:

Knock out your program requirements in a flash. The NRLA's one-week courses are offered in the areas of conflict management, communication, sustainable natural resources and leadership. Register for one week, or both, and earn 3 to 4 credits per course.

Make connections that will enhance your career. There will be ample opportunities to network with natural resources students and professionals in class and during social activities and field trips.

Register online by April 18 to save your spot.
---
Thinking about law school? Start here.
Preparing yourself to apply to law school is a massive undertaking, what with tests to take and letters to write and a résumé to enhance. That's why OSU's Online Pre-law Summer Series is a must-have for anyone who is considering the law school route.



Equip yourself with the tools and knowledge needed to apply to, enroll in and graduate from law school in this 12-week program. The pre-law series is designed specifically to help students prepare for the LSAT and complete a strong a personal statement, which is a key component of the application process.

The program consists of four highly valuable courses, including PS 126, an introductory course that examines the role of the law and the lawyer in society; and WR 329 – Writing for Law and Law School, in which you will produce an advanced working draft of your law application essay.

Find more information about the pre-law series online.
---

Like us and we'll love you back
The best way to stay in touch with Ecampus and hear about news and events is through our online communities on Facebook, Twitter and Google Plus. Learn more about the benefits of taking courses online, browse photos, ask questions, meet other Ecampus students and be the first to know about upcoming events, contests and more.
---
Contact our Student Services Center at
ecampus@oregonstate.edu
or 800-667-1465 for assistance or more information.
Want Course Flash in your inbox? Subscribe to OSU E-News today.

Features and Navigation
Media inquiries
If your publication would like to feature an OSU Ecampus online program, student or instructor, please contact Tyler Hansen.
For journalists
Gather quick facts about OSU Ecampus, our history and students on our webpage for members of the media.
Award-winning electronic newsletter
Where Ecampus is making the news
Staff, student and course honors
Ranked top 10 in the nation
OSU Ecampus earned a top 10 ranking for the fifth year in a row on a list of America's best online bachelor's programs. Learn more »