Oregon State University Ecampus • OSU Degrees Online
---
Ecampus E-News Summer 2012

Published by: OSU Extended Campus
Oregon State University, Corvallis, Ore., Vol. 14, No. 4
Spring edition – June 21, 2012
ecampus.oregonstate.edu
800-667-1465
---
Record-setting alums give you a blueprint
Looking for a reason to continue or start your studies with Oregon State Ecampus? We've got 402 of them.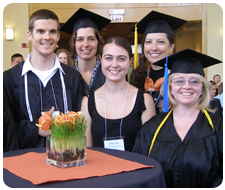 OSU Ecampus students graduated in record numbers last week -- 402, to be exact -- in commencement ceremonies highlighted by Michelle Obama's keynote address.
A total of 80 graduates attended a reception hosted by Ecampus on Sunday, and many were able to meet their classmates, advisors and instructors for the first time.
Be sure to check out the:
And don't forget that you can still register for summer courses, most of which start June 25. Visit our summer schedule of classes, and start planning your fall term at OSU, too. Fall classes start Sept. 24, so register today
.
---
Ecampus turns 30 with new German bachelor's degree

Four years ago, Ecampus offered 10 online degree programs. This month's addition of a B.A. in German gives us 30. And this one is perhaps our most interactive program yet.

Program coordinator and OSU professor Sebastian Heiduschke says the German program -- the first of its kind in the nation -- is designed to give students an interactive, face-to-face experience superior to the one on-campus students receive.

Ecampus students majoring in German will be exposed to the language, as well as the literature, cinema, cultures and histories of many German-speaking countries. Visit the Ecampus website for complete details
.
---
Improve your transcript with a new notation
Now you can pair your Oregon State diploma with the title of "undergraduate research fellow" or "undergraduate arts fellow," meaning your time at OSU will be even more valuable down the road.



All OSU undergraduate students -- even those taking classes online with Ecampus -- can have their contributions to research or the arts recognized on their transcripts.

"Having this noted on a transcript will make a student more appealing to employers or graduate schools during the application process," said Kevin Ahern, OSU's director for undergraduate research and an Ecampus biochemistry professor.

For more information and to apply, visit OSU's Undergraduate Research Framework website.
---
A chemistry class just the way you want it

Not all Ecampus students want their summer classes in a one-size-fits-all package. And that's why OSU's Department of Chemistry is offering its CH 121 -- General Chemistry course in a three-week condensed format as well as the standard eight-week format.

Both courses begin Monday, June 25, and they each give you the same dynamic material and let you fulfill the same requirements. That leaves you to decide whether you want the more fast-paced format or not.

The three-week version runs through July 13, while the eight-week course ends Aug. 17, so register today.
---
Listen to music for homework? Yes, please.

Remember when your parents told you to do your homework instead of listening to music or watching MTV? Well the times, they are a-changin', because in college rock 'n' roll is your homework.

The Ecampus online minor in popular music enables you to not only listen to some tunes as part of your studies but, more importantly, to examine popular music as a cultural and social practice.

This summer we offer a trio of upper-division music classes online that delve into some fun and interesting material. The three MUS 442 Genre Studies courses are subtitled Global Pop; Rock & Roll; and Music Videos, MTV and American Culture. Sign up today.
---
Employers deliver insight on career search

Whether you're hunting for jobs now or are years from graduating, do yourself a favor and tap in to the resources offered by OSU Career Services. Ecampus career counselor Kyle Cassady offers a wealth of knowledge and can help you successfully navigate the job market.

They also bring in employers to give you real-world advice. In fact, here are five videos that will boost your preparedness as you explore career opportunities:
---
Find a degree program that suits you best

If you're still undecided on which degree to pursue, take part in a live webinar and listen to OSU faculty and staff talk about our accredited online offerings. It's a great opportunity for you to ask questions, too.

Here's a list of upcoming info sessions we'll be hosting this summer, and you can sign up at no cost to you:
Visit the Ecampus website to view the recordings of previous webinars on 10 additional OSU online degree programs.
---
Stay connected and we'll give you the goods

The best way to stay in touch with Ecampus and hear about news and events is through our online communities on Facebook, Twitter and Google Plus. Learn more about the benefits of taking courses online, browse photos, ask questions, meet other Ecampus students and be the first to know about upcoming events, contests and more.
---
Thanks for reading Ecampus E-News. Want E-News in your inbox? Subscribe to Ecampus E-News today!

Features and Navigation
Media inquiries
If your publication would like to feature an OSU Ecampus online program, student or instructor, please contact Tyler Hansen.
For journalists
Gather quick facts about OSU Ecampus, our history and students on our webpage for members of the media.
Award-winning electronic newsletter
Where Ecampus is making the news
Staff, student and course honors
Ranked top 10 in the nation
OSU Ecampus earned a top 10 ranking for the sixth year in a row on a list of America's best online bachelor's programs. Learn more »