Oregon State University Ecampus • OSU Degrees Online
---
Ecampus fact
110+ subjects to study
Explore all of Oregon State's online course offerings.


Published by: OSU Extended Campus
Oregon State University, Corvallis, Ore.; Vol. 15, No. 1
Fall edition — Sept. 4, 2012
ecampus.oregonstate.edu
800-667-1465
Want Course Flash in your inbox? Subscribe to OSU E-News today!
---
Important dates and information
Fall term is a mere 20 days away, and this newsletter – complete with course and program highlights – contains a ton of resources to help you begin the 2012-13 school year on the right foot.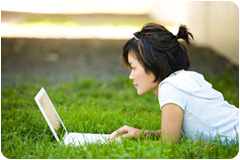 Fall 2012
Registration is ongoing
Classes begin Sept. 24
View the fall term schedule of classes.

Winter 2013
Priority registration begins Nov. 11
Classes begin Jan. 7
View the winter schedule of classes.

Take advantage of the step-by-step registration guide for a seamless process to enroll in courses. The Ecampus getting-started checklist is another way to ensure you are ready to begin the term.

And make sure you order your textbooks early from the OSU Beaver Store to receive them before the term starts.
---
Experience poetry as lively performance art
Poetry is a brilliant form of art. But an exciting one? You better believe it. This new, interactive class explores the world of spoken word and slam poetry, which have given contemporary poetics a sense of vibrancy and the ability to expand the art's visibility worldwide.

The four-credit course serves as a hands-on workshop for students to learn about and enhance their skills in spoken word poetics via multimedia, texts and personal reflection.

The instructor is Timothy Black, a national award-winning poet whose first book of work, published in 2008, received much acclaim.

View the course description.
---
Tune your ears and brain by learning to read music
MUS 199 – Fundamentals of Music
Music isn't technically a foreign language, but it certainly feels like it for a lot of people. This course will help resolve that issue, as instructor David Servias, D.M.A., and his series of interactive lectures will help you learn the basics of reading music as you receive an introduction to music theory.
You'll begin to learn how to train your ear musically and discover how to construct scales, intervals and chords on the keyboard. Among many other course highlights, Dr. Servias will teach you how to identify basic rhythmic note and rest values and describe their relationships with each other, and you'll compose short rhythmic examples.
View the
course description
.
---
Examine a culture's history in two countries
HEBR 231 – Introduction to Jewish Culture


Here's a cultural diversity bacc core course that will challenge students by having them compare and contrast the roots and current culture of Israeli Jews and American Jews. The course, led by instructor Yael Beged-Dov and taught in English, helps students understand the perspectives of people in a different time and place than themselves.

Among the enriching course objectives is the examination of major periods, events and religious practices in Jewish history, as well as discussions on the secret of Jewish survival. The class emphasizes the challenges that Jews in the United States and Israel faced in adapting to their new or existing environments.

View the course description.
---
Public health graduate program makes its debut
H 512 – Environmental and Occupational Health


Oregon State Ecampus is excited to unveil our new Graduate Certificate in Public Health this fall, and this is the first course in the program.

Take an in-depth look at basic concepts and issues in environmental health as instructor Brenda O. Hoppe, Ph.D., helps you examine environmental hazards that affect human health in the context of current social, political and regulatory pressures. This course will enable you to identify and explain environmental health problems in different communities, as well as communicate prevention and control strategies used in environmental and occupational health.

Topics covered in the class will include food protection, indoor and outdoor air pollution, drinking water and wastewater, environmental consequences of energy production and plenty more.

View the course description.
---
Learn about life at the bottom of the world
FW 467 – Antarctic Science and Conservation


The extreme remoteness of Antarctica doesn't mean it's a forgotten piece of land. In fact, the polar opposite is true. It is the site of large-scale, international conservation efforts, and this challenging upper-division class involves the exploration of Antarctica's history, geology, climate and ecosystems, with a special emphasis on current conservation issues.

The successful completion of the course will equip you with the ability to, among other things, describe the biophysical processes that sustain Antarctic ecosystems and the implications of altering those components. The weekly lectures, led by instructor Michelle Kappes, Ph.D., will touch on a variety of engaging topics, including the history of Antarctic exploration, glaciology, climate change and marine mammals.

View the course description.
---

We could, like, totally be BFFs
The best way to stay in touch with Ecampus and hear about news and events is through our online communities on Facebook, Twitter and Google Plus. Learn more about the benefits of taking courses online, browse photos, ask questions, meet other Ecampus students and be the first to know about upcoming events, contests and more.
---
Looking for more new Ecampus courses? Look here.
Whether you need a baccalaureate core course or an engaging elective, Ecampus is offering plenty of new or updated online courses this fall. And be sure to check out our comprehensive schedule of all fall classes.
Contact Student Services at ecampus@oregonstate.edu or 800-667-1465 for assistance or more information.
Want Course Flash in your inbox? Subscribe to OSU E-News today.

Features and Navigation
Media inquiries
If your publication would like to feature an OSU Ecampus online program, student or instructor, please contact Tyler Hansen.
For journalists
Gather quick facts about OSU Ecampus, our history and students on our webpage for members of the media.
Award-winning electronic newsletter
Where Ecampus is making the news
Staff, student and course honors
Ranked top 10 in the nation
OSU Ecampus earned a top 10 ranking for the fifth year in a row on a list of America's best online bachelor's programs. Learn more »