Oregon State University Ecampus • OSU Degrees Online
---
Explore Ecampus
Serving America's military
Maximize your GI Bill benefits while honoring your career, family and other life commitments.


Published by Oregon State Ecampus
Oregon State University, Corvallis, Ore.; Vol. 16, No. 1
Fall edition — Sept. 5, 2013
ecampus.oregonstate.edu
800-667-1465
Want Course Flash in your inbox? Subscribe to OSU E-News today!
---
Important dates and information
In 25 days, you can learn some new dance moves, become a mediocre magician or, best of all, prepare yourself to take classes online with Oregon State University.

This newsletter highlights various OSU Ecampus courses and will help you get ready for fall term, which starts in -- you guessed it -- 25 days.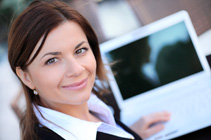 Fall term
Registration for all students is ongoing
Classes begin Sept. 30
View the fall schedule of classes

Winter term
Priority registration begins Nov. 17
Classes begin Jan. 6, 2014
View the winter schedule of classes

---
New course delves into history, significance of LGBTQ movement
QS/WGSS 262 -- Introduction to Queer Studies



If you're looking for a class that will challenge your way of thinking and ask you to engage in discussions on relevant social issues, look no further. Intro to Queer Studies is a brand new class at OSU, and instructor J.M. Floyd has designed the curriculum to carefully examine how homophobia and transphobia are connected to various forms of oppression, including racism and sexism.

Through reading assignments, films, critical responses and other engaging activities, this bacc core class explores the history of the LGBTQ movement and critiques the ways in which gender, and sexuality are constructed, with a particular focus on activism and scholarship of contemporary queer movements and politics.

Download the sample course syllabus.
---
Make smart decisions now, pave your path toward rewarding career
ALS 114 -- Career Decision Making



As the saying goes, preparation is the key to success, and few things are more important than being prepared to make well-informed academic and career choices. This class is designed to do precisely that, with learning outcomes that will benefit you in the immediate future and throughout life.

Instructor Kyle Cassady, who is also the Ecampus career counselor, guides students through the use of online career research tools and a crucial period of self-assessment that helps them determine their individual interests, values and work preferences. Once that foundation is established, you'll plot achievable next steps toward reaching your goals -- a road map of sorts that will prepare you to seek satisfying life and career opportunities.

Download the sample course syllabus.
---
Refine your writing skills, acquire the tools it takes to get published
WR/PSM 525 -- Advanced Scientific and Technical Writing



Let's not beat around the bush: If you want to be published in a scientific or technical field, this is perhaps the most important course you can take.

By combining scientific and technical writing with science journalism, instructor Cynthia B. Chapman's 4-credit graduate course gives students invaluable assignments to hone their skills and help them stock their portfolios with new material.

Drawing on a data set that ideally is their own, students will undertake a variety of projects: drafting a scientific journal article, magazine article, short grant proposal, letter of inquiry and book review. The curriculum also calls for students to critically evaluate and edit documents by reviewing classmates' drafts.

Download the sample course syllabus.
---
Discover social, cultural influences that led to our wardrobe choices
DHE 463 -- History of Contemporary Fashion



It's a rite of passage to look at old photos of ourselves (or our parents) and say, "Why would anyone ever wear that?" DHE 463 answers that question and more with an academic approach, unveiling the reasons why we dress ourselves in certain ways.

You'll venture back in time to analyze the historic fashion choices men and women have made, starting with the 1890s and working your way to the present. Instructor Jennifer Mower will -- among many other engaging tasks -- ask you to define culture and explain how America's cultural values, beliefs and attitudes influenced apparel styles throughout history.

Download the sample course syllabus.
---
Multimedia makes learning Chinese online an engaging experience
CHN 111 -- First-Year Chinese



Learning a foreign language is an undeniably valuable tool in the job market as employers seek bilingual workers, so it makes plenty of sense to enroll in this class and start learning the basics of the world's most widely spoken language.

Using a variety of multimedia resources such as an online audio discussion tool, you'll begin building a vocabulary in colloquial Mandarin that will enable you to communicate ideas in speaking, listening, reading and writing contexts in Chinese characters. At the successful completion of the course, students should be able to communicate with native-born Chinese speakers.

Download the sample course syllabus.
---
What's your role in society? Is democracy the best approach? Find out.
PHL 207 -- Political Philosophy



Enhance your understanding of the world you live in as well as your rights and obligations as a citizen in Marta Kunecka's bacc core course on the philosophical nature of politics. You and your classmates will engage in a quarter-long conversation that, in part, asks questions about the value of democracy and its possible alternatives.

Upon completing the course, you'll be equipped with the necessary tools to re-evaluate, formulate and strengthen your own perspective on the political life and your own place in society. This highly interactive class tries to discover how things should be and not only describe how things are.

Download the sample course syllabus.
---
Cultural class digs deep to unearth musical roots of four nations
ANTH 210 -- Comparative Cultures



The beauty of music is that it unites us, but it also can be a wholly unique experience that sets a culture apart from others. Understanding the way music is made can help one determine its cultural, political and historical influences, which is the ultimate goal of this bacc core course.

Led by the instruction of Michaela Hammer, you will focus your attention on the musical cultures, histories and identities of the people of Brazil, Jamaica, Hawaii and Cambodia. Not only will you compare how music is influenced by its surroundings, but you also will come to understand how music functions as social commentary, a vehicle of protest and how it affirms our individual and collective humanity.

Download the sample course syllabus.
---
Knock out your chemistry requirement, and do it all online
CH 140 -- General, Organic, and Biological Chemistry



Students whose degree programs require only one semester of chemistry with labs should consider taking this class. It's 6-credit course (which will transfer as 4 semester credits) that gives students a foundation in general chemistry as well as introducing important topics related to the chemistry of living systems.

The lab component is included within the course and can be completed fully online. Topics include measurement, energy and matter, nuclear chemistry, protein synthesis and more. CH 140 is ideal for students majoring in fields such as dental hygiene, dietetics, exercise science and some nursing programs.

Download the sample course syllabus.
---
Engage with Ecampus on the interwebs
The best way to stay in touch with Ecampus and hear about news and events is through our online communities on Facebook, Twitter and Google Plus. Learn more about the benefits of taking courses online, browse photos, ask questions, meet other Ecampus students and be the first to know about upcoming events, contests and more.
---
Find more new, updated online courses for fall
Whether you need a bacc core course or an extra elective, Ecampus offers plenty of new and updated online courses this term.

Take advantage of our step-by-step registration guide for a seamless process to enroll in courses, and don't forget to order your textbooks early from the OSU Beaver Store to receive them before the term starts.

Contact Ecampus Enrollment Services via email or call 800-667-1465 for more information.
Want Course Flash in your inbox? Subscribe today.

Features and Navigation
Media inquiries
If your publication would like to feature an OSU Ecampus online program, student or instructor, please contact Tyler Hansen.
For journalists
Gather quick facts about OSU Ecampus, our history and students on our webpage for members of the media.
Award-winning electronic newsletter
Where Ecampus is making the news
Staff, student and course honors
Ranked top 10 in the nation
OSU Ecampus earned a top 10 ranking for the fifth year in a row on a list of America's best online bachelor's programs. Learn more »