Oregon State University Ecampus • OSU Degrees Online
---
Ecampus fact
24,000+ students worldwide
Oregon State Ecampus serves students in all 50 states and more than 50 countries.
Ecampus E-News Winter 2014

Published by: Oregon State Ecampus
Oregon State University, Corvallis, Ore., Vol. 16, No. 2
Winter edition – Jan. 29, 2014
ecampus.oregonstate.edu
800-667-1465
---
Make 2014 your best year yet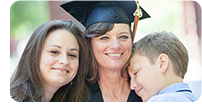 You've had a few weeks to settle into 2014, so let's check how you're doing on those New Year's resolutions:
1. Have more fun.
2. Learn online with Oregon State.
3. Read more news about OSU Ecampus.
We're here to help with the last two.
This issue of Ecampus E-News will introduce you to our new degree program in sustainability, tips on how to secure financial aid and a fresh way Oregon State is honoring its students.
And mark your calendars now: Priority registration for spring term begins Feb. 23, and classes start March 31.
---
Earn a degree online in sustainability

Oregon State is America's natural resources university, and our expertise in related fields can now become your calling card, too.
This winter Ecampus launched a double degree program in sustainability that creates leaders with the skills and knowledge needed to address vital issues such as climate change and renewable energy.
The B.S. in Sustainability is only available as a double degree online through Ecampus. Current students can earn this degree as an addition to their primary degree program.
Find out how to get started on your new career path today.
---
Your guide to securing financial aid

Enrolling in college requires a financial commitment, and OSU is eager to provide much-needed information to set you up for success as you invest in your future.
Ecampus and OSU's Office of Financial Aid and Scholarships recently hosted a webinar that delivers details on topics such as:
How to find additional funding for your education
How financial aid, grants, scholarships and loans differ
Completing the FAFSA
Meeting all the required deadlines
This highly informative video is guaranteed to answer many of your questions, so check it out.

---
21 students inducted into new honor society

We are always looking to expand opportunities for our distance students to become more involved in the OSU community wherever they live, and last month we helped to create another.
In an effort spearheaded by Ecampus student success counselor Amy Riley, OSU started its own chapter of the Alpha Sigma Lambda Honor Society, a national outfit that recognizes adult learners "who accomplish academic excellence while facing competing interests of home and work."
The OSU chapter invited 114 students for membership, and 49 were inducted – 21 Ecampus students, 22 from OSU's main campus in Corvallis and six from OSU-Cascades.
"I think the membership will help me connect with other OSU students that have the same goals and feelings towards success as I do," said Randi Mueck, 35, a mother and liberal studies major in Myrtle Creek, Ore.
"It will enable me to network and give me a greater sense of belonging to the OSU community, even though I live so far away."
---
Summer natural resources academy is back

Oregon State is again opening its doors this summer to natural resources graduate students and professionals for a pair of weeklong leadership seminars.
The third annual Natural Resources Leadership Academy (NRLA) is scheduled for June 15-20 and June 22-27 on the OSU campus in Corvallis. Here are two reasons why you should sign up:
1. Check off your program requirements in a flash. Register for one week, or both, and earn 3 to 4 credits per course. The academy is also the perfect opportunity to make your first visit to the OSU campus if you haven't been here yet.
2. Make connections that will enhance your career. There will be ample opportunities to network with other students, faculty, decision-makers and industry leaders during group projects, social activities and field trips.
Registration opens in February, so read more to learn about this can't-miss experience.
---
Stay in touch with Beaver Nation

The best way to stay in touch with Ecampus and hear about news and events is through our online communities on Facebook, Twitter and Google Plus. Browse photos, ask questions, connect with other students and be the first to know about upcoming events, contests and more.
---
Thanks for reading this issue. Want Ecampus E-News in your inbox? Subscribe to our newsletter today!

Features and Navigation
Media inquiries
If your publication would like to feature an OSU Ecampus online program, student or instructor, please contact Tyler Hansen.
For journalists
Gather quick facts about OSU Ecampus, our history and students on our webpage for members of the media.
Award-winning electronic newsletter
Where Ecampus is making the news
Staff, student and course honors
Ranked top 10 in the nation
OSU Ecampus earned a top 10 ranking for the fifth year in a row on a list of America's best online bachelor's programs. Learn more »