Oregon State University Ecampus • OSU Degrees Online
---
Course Flash - Summer/Fall 2004

OSU E-News
"Your Electronic Link to Learning at a Distance"
Published by: OSU Extended Campus
Oregon State University, Corvallis, Oregon; Vol. 6, #3
May 24, 2004
http://ecampus.oregonstate.edu --> Check us out!
800-667-1465
Welcome to our summer/fall 2004 edition of Course Flash. Summer term has begun, and fall registration is currently underway, so if you see a course that interests you, register now! As always, check our website and Schedule of Classes regularly for additional course and program information.
Summer courses started June 21; Fall term beings September 27.
Choose from the following sections:
Note: Click on each course subject to jump to the Schedule of Classes.
New Courses for Summer 2004
ENSC 420
Field Internship, Wilderness Resource Stewardship (3)
Introduces the concept of wilderness and the management principles and issues associated with applying that concept to National Wilderness Preservation System units. Student interns complete 90 hours of individually scheduled, supervised Wilderness Information Specialist service in the Three Sisters Wilderness of Central Oregon during the summer visitor season. PREREQ: Departmental approval. Note: Can also be taken as LS 410.
H 432/532
Economic Issues in Health and Medical Care (3)
Course delivery is combined online and on-site (two weekends) in Albany, Oregon. Part of a health care course sequence, this class will provide students with a broad overview of the field of health economics. Students will develop a foundation to enable them to more critically read and understand current issues of interest to health care policymakers and administrators alike.
MTH 103
Algebraic Reasoning (4)
A combination of cooperative learning and individual instruction is used to promote student development of algebraic reasoning processes and skills. Students will learn the basic skills necessary to proceed to MTH 111. PREREQ: Previous algebra course.
MTH 112
Elementary Functions (4)
Triangle trigonometry, circular functions and graphs, trigonometric equations and identities, inverse trigonometric functions, polar coordinates, vectors and applications. PREREQ: MTH 111. (Bacc Core Course)
MTH 245
Mathematics for Management, Life, and Social Sciences (4)
Techniques of counting, probability and elements of statistics including binomial and normal distributions. Introductory matrix algebra. Elements of linear programming. PREREQ: MTH 111. (Bacc Core Course)
MUED 471
Fundamentals of Music for Elementary Classroom Teachers (3)
Music activities for elementary teachers in training. Introductory course designed to build musicianship through experiences that are developmentally appropriate to the teaching of music in the primary elementary classroom.
MUED 562
Research in Music Education (3)
Introduction to the historical, philosophical, quantitative and qualitative research methodologies in music education. Includes interpretation and application of findings published in major research journals. PREREQ: Admission to the Professional Teacher and Counselor Licensure program or instructor approval required.
MUS 102
This American Music! Music Appreciation II, Periods and Genres (3)
An investigation of the development of music in America, from the New World to the present including Native American music, Jazz, Rock, and Musical Theater, and the impact of this vital part of American life on society and culture. (Bacc Core Course)
PSY 202
General Psychology (3)
Offered for the first time online. Explore motivation and emotion; personality; measurement of human differences; adjustment, psychopathology and psychotherapy; attitudes and social behavior. (Bacc Core Course)
SOC 360
Population Trends and Policy (3)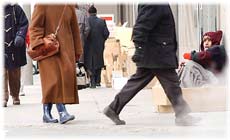 This popular course is also new online and filling fast! (Will be offered again fall term 04.) Study basic socio-demographic factors affecting population size, distribution, composition and change; examination of local, national, and international trends, and demographic policy. PREREQ: SOC 204. (Bacc Core Course)
Summer Course Highlights
ANS 312
Feedstuffs and Ration Formulation (4)
This course provides a comprehensive overview of animal nutrition targeted for agriculture, rangeland, and other students with an interest in learning the feedstuffs and feeding of animals. ANS 312 was recently awarded the 2004 Silver Award by the Assn. for Communication Excellence for Distance Education and Instructional Design, and has been described by a past student as "an excellent course…it gave practical real-life insight [to animal nutrition];…definitely, time and money well-spent!"
ANTH 110
Introduction to Cultural Anthropology (3)
New last term…Learn how different cultures solve common human problems. This course will investigate how values, family, religion, economics, and politics are similar or different around the world. Students are asked to consider future cultural conditions. (Bacc Core Course)
ANTH 430
Topics in Archaeology: Archaeology & Sustainability (3)
Study the collapse of past civilizations to understand more fully the sustainability of today's complex societies. You will study the rise and fall of complex civilizations throughout North America, Mesoamerica, Europe and Asia, and what we might learn from their demise.
ANTH 430
Topics in Archaeology: Oregon Archaeology (3)
Delve into the fascinating world of Native American artifacts and culture. This course will integrate archaeological and environmental data to illustrate how Oregon's first peoples adapted to their natural landscape. Note: The topics courses (above, ANTH 430) can be taken more than once, if different topics.
COMM 328
Nonverbal Communication (3)
Study the human communication behavior that transcends the spoken and written word. Analyze how nonverbal behaviors affect our communication in our personal relationships, work situations, and culture.
H312
Aids and Sexually Transmitted Diseases in Modern Society (3)
Develop an appreciation for the multi-dimensional aspects of HIV/AIDs and other STDs, and understand the perspective of a public health approach to prevention and control of these diseases.
New Courses for Fall 2004
ANTH 330
Evolution of People, Technology and Society (3)
Study the development and interaction of human biology, technology and society. (Bacc Core Course)
ANTH 350
Language, Culture and Society (3)
The function of language in the construction of social relations.
ANTH 380
Cultures in Conflict (3)
Explores the processes of intercultural contact, cross-cultural interaction, and the consequences of global penetration of European-American culture. (Bacc Core Course)
ATS 210
Introduction to the Atmospheric Sciences (3)
Survey the properties of the atmosphere and the factors governing weather and climate, on both large (long term, global) and regional (day to day, local) scales. PREREQ: College algebra and elementary functions.
CH 121
General Chemistry (5)
A general chemistry sequence for students with no previous training in chemistry, and whose college aptitude test scores indicate the need for an elementary introduction to chemistry. Entering students are expected to have a working knowledge of high school algebra, logarithms, and scientific notation. CH 121 prepares students for CH 122 and CH 123, which are Bacc Core courses; these courses must be taken in order. Lecture/recitation online.
FOR 281X
Understanding Place: Communities and Their Landscapes (2)
Course delivered on-site in Wallowa County, OR. This intensive three day field-based course focuses on the skills needed to develop a working knowledge of the landscape. The course takes place in the extremely diverse and relatively unpopulated area of Wallowa County, where students will develop skills in observation, communication, and critical thinking surrounding natural resources.
FOR 381X
Community-Based Conservation and Development (4)
Course delivered on-site in Wallowa County, OR. In this two week, intensive, field-based course, students will investigate community-based efforts to secure sustainable livelihoods adapted to the local environment in Wallowa County. Through guest presentations and field study, students will examine collaborative projects and processes designed to promote community, forest, and watershed health while creating family-wage job and business opportunities.
FOR 382X
Human Influence on Disturbance Ecosystems (4)
Course delivered on-site in Wallowa County, OR. In this two week, intensive, field- based course, students will investigate a variety of ecosystems and disturbance agents within Wallowa County. Through guest presentations and field study, students will examine a variety of projects designed to promote ecosystem health by understanding and managing for natural and human-caused disturbances.
GEO 324
Biogeography (4)
Study plant, animal, and biotic community distribution and dynamics, as well as the effect of climate, tectonics, and disturbance on extinction, speciation, and succession. Field trip(s) required but may be virtual field trips at no extra expense.
Fall Course Highlights
Need a Math course?
Visit the Fall 2004 Math section in the Schedule of Classes for info on MTH 103, 105, 111, 112, 211, 212, 241, 245, 251, 252 and 390.
Thanks for reading Course Flash!
Visit our Schedule of Classes for a complete listing courses and for registration information. Fall term begins September 27.
Want "Course Flash" in your Inbox? Subscribe to OSU E-News today!

Features and Navigation
Media inquiries
If your publication would like to feature an OSU Ecampus online program, student or instructor, please contact Tyler Hansen.
For journalists
Gather quick facts about OSU Ecampus, our history and students on our webpage for members of the media.
Award-winning electronic newsletter
Where Ecampus is making the news
Staff, student and course honors
Ranked top 10 in the nation
OSU Ecampus earned a top 10 ranking for the fifth year in a row on a list of America's best online bachelor's programs. Learn more »