Oregon State University Ecampus • OSU Degrees Online
---
Ecampus fact
24,000+ students worldwide
Oregon State Ecampus serves students in all 50 states and more than 50 countries.
Course Flash - Winter 2004

Welcome to our winter issue of Course Flash, an E-News edition that provides you with a quick and focused look at what's new and exciting in our OSU Ecampus online offerings for next term. For more details, click on the course number below. Be sure to also check out our online Schedule of Classes for a complete menu of winter classes.
New Courses for Winter 2004
ANTH 210
Comparative Cultures (3)
Compares the cultures originating in Asia, Africa, and precolonial Australia, Oceania, and North and South America, and considers the contribution and influences of minority and ethnic groups on the mainstream culture in nation states. Summarizes the characteristics of cultures in the major world culture areas. (Bacc Core Course)
COMM 328
Nonverbal Communication (3)
The course examines the relationship between nonverbal and verbal communication behavior and nonverbal communication skill development. Topics addressed include space, distance, the environment, touch, gesture, facial expression, and gaze as communication. (SS)
EXSS 475
Power and Privilege in Sport (3)
This course provides an analysis of how sport acts as a socializing agent while being directly affected by the social norms and values of North American society. Examine the influence of race, gender, physical disability and sexual orientation, and consequences of long held societal norms and stereotypes which have affected traditionally marginalized groups.
FW 479
Wetlands and Riparian Ecology (3)
Ecology of riparian freshwater and estuarine wetlands of the Pacific Northwest. Effects of land use on ecosystem structure, function, biodiversity, and restoration will be explored.
GEO 300
Environmental Conservation (3)
Geography of human relationships to the earth's systems with an emphasis on human induced charge, both unintended and purposeful. Lec/rec. (Bacc Core Course)
H 436/536
Health Services Administration & Management (3)

(Course delivery is on-site in Bend, Oregon.) Administrative practice in health care settings with emphasis on long-term care and acute care services. Provides a framework for health care systems and managerial process and roles. Focus on operations, planning, marketing, human resources, finance, productivity and control as well as emerging trends in health services.
HDFS 432
Children with Special Needs (3)
Developmental, educational, and family issues related to children with disabilities and giftedness.
MTH 111
College Algebra (4)
Polynomial equations and inequalities, polynomial functions and graphs, inverse functions, exponential and logarithmic functions, elementary mathematical modeling and applications. (Bacc Core Course)
NE 654
Neutron Transport Theory (3)
Properties of and methods for solution of the linear Boltzmann equation for nuclear reactors; spherical and double-spherical harmonics; integral equation methods; Monte Carlo methods
NFM 216
Food in Non-Western Culture (3)
Cultural determinants influencing food habits of humans. Interrelation of eating patterns and socio-cultural, ecological, psychological and economic factors in cross-cultural settings. Roles of men and women in food provision. (Bacc Core Course)
SOC 556
Science and Technology in Social Context (3)
Study of social aspects of science and technology (values, practices, organization, impacts) by analysis of issues revealing their relationship to other social and cultural processes.
WR 406
Reading and Writing the Contemporary Memoir (4)
Want to share your story? Now is your chance, in "Reading and Writing the Contemporary Memoir." In this course you will write parts of your own life story, to be shared with your classmates. A variety of contemporary memoirs will also be read, starting with Frank McCourt's Angela's Ashes.
Other Highlighted Courses for Winter 2004
ANS 312
Feedstuffs and Ration Formulation (4)
An overview of animal nutrition targeted for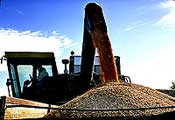 agriculture, rangeland, and other students with an interest in learning the feedstuffs and feeding of animals. Described by a past student as "an excellent course...gave practical real-life insight [to animal nutrition]; definitely, time and money well-spent!"
ANTH 240
From Ape to Angel (3)
Investigate the origin of modern people (Homo sapiens) in a historical context. Review key discoveries and current research on the relationships between humans and other primates. Explore contrasting views of humanity.
MUS 101
Music Appreciation 1: Survey (3)
This survey of the European classical music tradition is designed to sharpen your listening skills and deepen your understanding of the music of the last 500 years. Plus, you'll participate in the creative give and take between composers, performers and audiences! (Bacc Core course)
MUP 192
Individual Lessons: Strings (1)
That's right, learn how to play the guitar online! Back by popular demand, this exciting course gives students the option of creating a video/audio file of an individual performance.
SOC 312
Sociology of the Family (3)
New last term, this course explores the meaning of families by situating them in socio-historical contexts. Explore how the structure of families has changed over time and how it varies based on status of social class, and racial or ethnic group. (Bacc Core course)
SOC 472/572*
Giving and Voluntarism (3)

* Change - formerly SOC 380
This course has been popular with students and faculty since it was originally offered in the fall of 2000. Content covers giving, voluntarism, charity, philanthropy, and civil society as viewed by the humanities and social sciences. The learning objectives of the course are suited to students at the 400 and 500 level where a certain amount of application, analysis, evaluation and synthesis is required.
Visit our Schedule of Classes for a complete listing of winter courses and for registration information. Classes start January 5th - register today!
Want "Course Flash" in your Inbox? Subscribe to OSU E-News today!

Features and Navigation
Media inquiries
If your publication would like to feature an OSU Ecampus online program, student or instructor, please contact Tyler Hansen.
For journalists
Gather quick facts about OSU Ecampus, our history and students on our webpage for members of the media.
Award-winning electronic newsletter
Where Ecampus is making the news
Staff, student and course honors
Ranked top 10 in the nation
OSU Ecampus earned a top 10 ranking for the fifth year in a row on a list of America's best online bachelor's programs. Learn more »